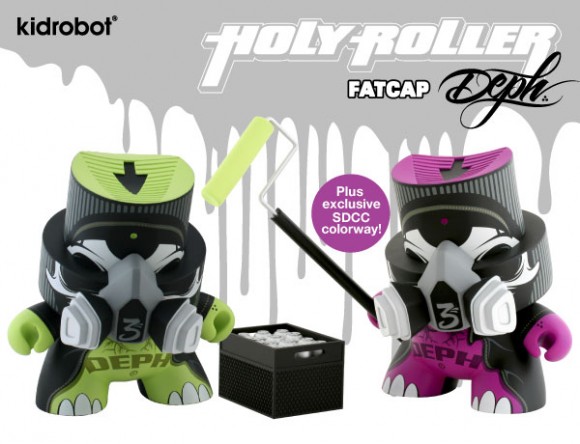 July 24th
Holy Roller FatCap 6-Inch
Signing with DEPH
DEPH's FatCap wears a gas mask to protect his lungs and conceal his skull face while he destroys walls with his crate of spray paint and extension roller. Available in two colorways, green and the SDCC exclusive purple, this limited edition FatCap stands 6-inches tall, rattles when you shake him just like the real thing, and features DEPH's tag on the back. Retails for $75 each and includes a DEPH poster.
Signings: Shake things up with DEPH at SDCC! He'll be in Booth #4529 on Friday, July 24th from 11am-1pm with a limited number of Holy Roller FatCaps available for signing.
Artist: DEPH is a LA-based graffiti artist, illustrator and painter. He has created artwork for toys, cars, movies, video games, skateboards, print ads, and more. His work has been displayed in many galleries across the US. When he is not painting, he concentrates on his clothing company To Die For.
Availability & Production Run: The run of 1200 of the green FatCaps will be available at SDCC, Kidrobot stores at 11am local time on July 23, kidrobot.com at 11am EST on July 23, and at select retailers (check for times and availability). The run of 200 purple FatCaps is an SDCC exclusive and only available at Kidrobot booth #4529.