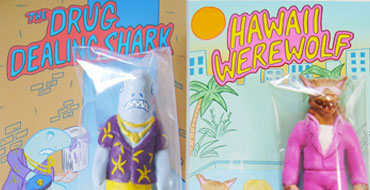 Beware of the impending attack of the Hawaii Werewolf and The Drug Dealing Shark! Coming out of Hawaii byway of a small town in Indiana, emerging artist Joseph Harmon and the Department of Awesome have teamed up to make this hilariously awesome art toy project a reality. Only 5 of each hand-painted resin figures will be available starting Monday November 14.
"The idea for Hawaii Werewolf and Drug Dealing Shark came from my love of
bad 80's cartoons and Magnum PI."
To get on the preview list, email aloha@thedepartmentofawesome.com the secret password "I Love Awesome" and you'll get first crack at a chance to score these super rad figures as soon as they're available. To find out more about Joseph Harmon and his work, check out the recent interview with the Deptartment of Awesome.