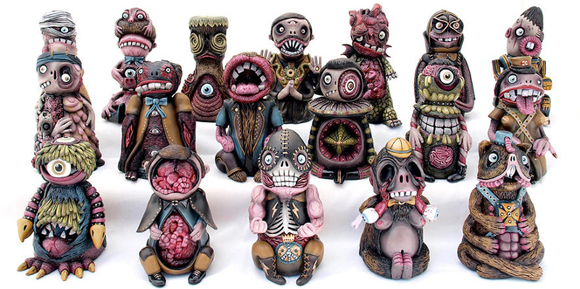 You saw him at Designer Con and numerous shows in the states. His work is gorgeous and alluring while whimsical and brilliant. Today, we showcase the amazing work of Peter Kelk aka Seymour for the DTA Dunny Show 2!
Peter Kelk was born in New Zealand; he studied graphic design at the Wanganui School of Design specialising in print and illustration, and after graduating in 2002 spent time working throughout Europe as a freelancer and technical director of an international lowbrow gallery. Currently he is residing and working as an artist from his studio in Melbourne, under the pseudonym 'Seymour' and stocks and exhibits his work in galleries worldwide.
He uses a diverse range of mediums including sculpture and print to create his stylistically recognizable pieces that range from limited edition art toys to giclee prints to intricately detailed one off sculpted pieces. In the past few years he has undertaken a wide range of projects including various solo and group shows, as well as commission projects for bands, theatre productions, and magazines.
As with all the artists for the DTA Dunny show, we picked Peter's brain with some softball questions.
Who are you? I'm a New Zealand born artist, currently living and working out of Melbourne. 
I studied Graphic Design and spent a few years freelancing – designing band and gig posters and album graphics, which brought me around to producing limited edition prints. In 2007 I started working under the name 'Seymour'. A few years later a friend suggested that I give sculpting a go. I was a big fan of playing with Fimo as a kid, so it kind of seemed second nature to move in this direction. So through a lot of trial and error I now find myself creating limited edition and one off sculpts and toys.
What attracts you to using designer toys as the canvas for your art? I love the freedom of working in 3D and all the challenges and hurdles this brings. I like that it's an evolving medium and that you are constantly learning new techniques and progressing your style. 
What was the inspiration for your piece in the exhibition? At the same time of being super excited about being part of this show, I was also kind of bricking it as it's actually my first 'Dunny' I've ever customised. The idea was to create one of my creatures over top of it, but keep the basic shape of the 'Dunny' to make it recognisable. I've added a lot onto this piece, and have morphed 2 'Dunnys' into one (including the head of a Chris Ryniak 'Meltdown Dunny'. Basically I just wanted to have fun with it step my sculpting up a notch. 
Where can someone find out more about you and your art? I tend to post a lot of WIP shots on my Instagram, so if that's of interest you can follow my at @seymourart. Otherwise my website and online store is www.seymourart.net. 
Anything Else you'd like to say? I'm going to follow suit – and would also just like to say thank you everyone for all the support. Thanks to all the people that post my work on their awesome blogs. I know this takes ages and you get very little for it, so you support means a a lot. And thanks to Clutter – you guys are great and have backed my work for years. And cheers Kidrobot, I'm honoured to be part of this great show!,
Now to get you an appetizer of his work and what exactly the Dunny for the show might look like, look below!