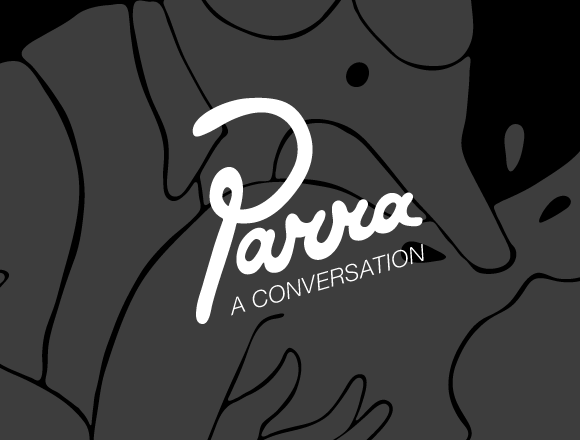 We were lucky enough to catch up with the man behind behind highly sought after clothing label Rockwell by Parra and our Pierced figure, first released last June. He's coming off an exhibition at SFMOMA and heading into one at Johnathan LeVine Gallery set to open this February, and one thing is for sure: this Dutch artist's pop imagery, playful color palettes, and free form typography is captivating everyone from fine art collectors to hipsters on fixies.  Last time we released Pierced, it sold out in under 5 minutes and if this is any indication of how hot Parra is right now- put on your oven mitts and get ready for the new colorway, out tomorrow, 1/31, in Kidrobot stores, online at Kidrobot.com, and in select retailers worldwide.
Pierced: Shades of Grey// Image: Kidrobot
>>>>>>>
KR: Hey Parra, how's it going?
PP: Hello, I'm good thank you, although a bit cold. Amsterdam is trying to have a winter.
KR:  How has your winter been in Amsterdam?
PP:Amsterdam (Dutch) winters are a farce. It's up and down, there can be a day with some nice snow but will be immediately followed by rain the next day so the city is covered in brown slush.
KR: What are you working on right now? How are things with Le Le?
PP: Just finished working on a bunch of new canvasses and ink drawings for my next solo show at Jonathan Levine gallery in New York. If everything is going to plan a wooden crate is flying over the water right now. Also just finished a new collection for my clothing brand 'Rockwell by Parra'. So I'm taking it easy for a while until the next thing comes along.
Le Le is getting back on its feet!
We had a little break 'cause all the members (Faberyayo, Rimer London & me) were busy with our own stuff. Now we are getting exited to get back in Rimer London's studio and start making new stuff. I'm making little musical sketches in between so we will have something to start with. Wanna get an album done this year, maybe release it early next year.
KR: How do you concept for a new work? What inspires you?
PP: Oh well I just wait till something comes to me usually in moments of the day where you are doing mindless stuff like taking a shower, or bicycling to the studio. A lot of stuff comes to me when I just wake up in that foggy between sleep and awake period. Sometimes I will have no inspirations for weeks, then suddenly it will rain ideas. The ideas can come from everywhere but mostly daily normal boring stupid situations that I put in a different daylight.
KR: How did your signature beaked character arise?
PP: I was looking for some sort of mask that my characters could wear so I could have them do human things but with a completely different feel. If you draw a face literally, it is very attention grabbing in my opinion because we are quite face driven, and people also tend to judge a face before knowing who it is, you know, length of hair, scars, big ears, that kind of stuff. When using the bird face, all that is gone and you cant really judge the character like a human.
KR: What inspired you to create the Pierced figure specifically? Do you have any drawings/ preliminary sketches of the figure from the very beginning?
PP: When KR asked if I wanted to create something I had a lot of ideas but got stuck on a very simple bird just standing there.
I think the reason is that I know how hard it is to make a 2D sketch into 3D, so I held back a bit and looked for something simple. Then KR said they saw the Pierced silkscreen once in an exhibition and loved that design. I thought it would be way too complicated to make this into a 3D piece, but KR insisted it could be done and so it was written. And it came out awesome.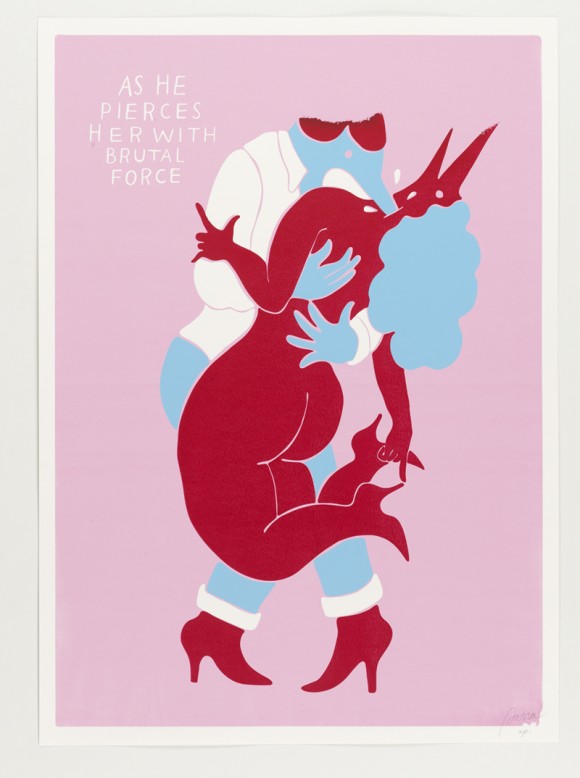 Original silkscreen that inspired the Pierced figure// Image: Parra
KR: The copy for the product tells us that it's a "dramatic dance of pleasure and pain." Why did you decide to capture those emotions rather than something else?
PP: Well it's about relationships between woman and man really, he is hurting her by piecing his beak into her neck in a vampire kind of way, she seems to enjoy it or maybe not..it's not clear and a lot of time I feel the same way about relationships, haha!
KR: So there's an obvious connection between your figure to the E.L. James novel by the same name. What's up with that? It seems to work with the whole "domination" theme present in both works.
PP: Oh the 50 Shades of Grey book? Damn I didn't read it, should I? I don't think it has a connection though, the name just was perfect for it.
KR: Why do always adhere to a specific color palate?
PP: I did change the colors over the years. I tried some out but I went with the colors I feel most comfortable with. It's the colors that never annoy me or bore me.
KR: If you could live inside a painting or drawing forever, which one would you chose?
PP: Iron Street by Nicholas Krushenick. Awesome work. I just found out about his stuff.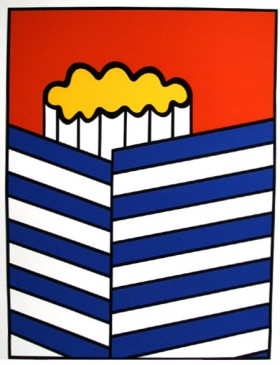 Iron Street By Nicholas Krushenick // Image: Ro Gallery
KR: This is a question from one of our fans- Jon Paul Scaravella: What do you dream about?
PP: I think I daydream more, but if I dream at night it's very incoherent weird sometimes scary stuff, that I tend to not remember. The daydreaming is nice 'cause I can control it.
KR: Another fan question- this time from West Kyle McGowan: How does one "make it" in the art world?
PP: That's a hard one, I wouldn't know to be honest depends on what you want that world to be, for instance my father makes work everyday from paintings to sculptures and he has not shown in a gallery for about 15 years. However I think that having a certain style that people recognize you from may help.
KR: If you could have any super power in the world, what would you chose?
To fly.
I will wear my bird mask too…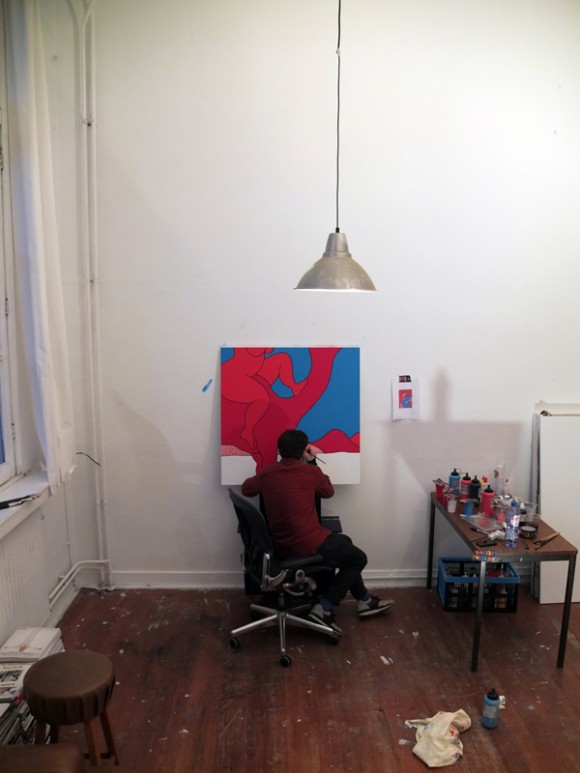 Parra in his studio in Amsterdam// Image: Parra
Pierced: Shades of Grey releases 1/31 worldwide.