Kidrobot proudly partners with Jordan Elise and Christopher Lees to present the Horrible Adorables Series! Horrible Adorables features strange creatures and wonderful wonders packaged in a window box. Each Mini Figure measures approximately 4" tall.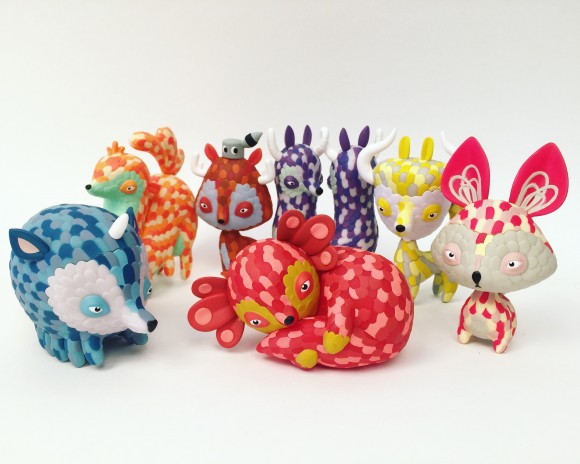 After the exciting reveal of Horrible Adorables at New York Toy Fair, we wanted to help the Kidrobot audience get to know Jordan Elise and Christopher Lees! Jordan was kind enough to give us some of her time for a Q&A…check it out here!

What made you want to collaborate with Kidrobot?
It's always been one of my biggest aspirations to have our characters translated into toys.  I form strong connections with objects and have cabinets filled with all sorts of curious items. Being an adult who never really grew up, toys are a big part of that collection!  Designer vinyl, vintage, plush; I love them all.  When Kidrobot approached us about turning Horrible Adorables into a vinyl series, it was a dream come true!
What's the inspiration behind your pieces?
Horrible Adorables are odd and fantastical creatures.  We've been creating a world of these beastly critters for years now in soft sculpture form.  For the Kidrobot series, we selected some of our favorite recurring characters and explored varied body shapes and personalities.  One of the defining characteristics about Horrible Adorables is the way that felt scales are applied to the sculptures.  It was very important for us to also have that reflected in the toys.  Instead of painting the scales onto a flat form, each one is raised and shaped along the curves of the creatures giving them so much more dimension!
What was your artistic process like while working on this piece?
Chris and I sat down together to conceptualize all of the creatures.  Having an open dialogue and working as a team is essential to our creative process.  I created the final drawings once we hammered out the details of each character, and then we came back together to collaborate on the colors.  In our work, we LOVE color!  Each toy has four different colors we blend together to create that character's unique palette.  We also sent along a few actual sculptures to Kidrobot with the drawings, so they would better understand how the material is applied and how it wraps around the forms, when creating the 3D models.
Who do you consider your creative inspiration?
This is such a difficult question for me because I'm inspired by so many things.  I love the work of mid-century artists such as Charley Harper, but also the anthropomorphic taxidermy dioramas of Walter Potter, and the fanciful work of Nathalie Lete.  I'm wildly into Cryptozoology, the study of imaginary (or REAL) monsters.  I love old circus ephemera from the days of P.T. Barnum; not only to look on with fascination, but also sympathize with his 'freaks.'  I'm continually intrigued by animals and their strange features to better adapt themselves to their environments.  Bits of vintage fabric, odd rubber toys, or faded photographs of happy faces are all sorts of things that I keep around the studio for inspiration.
What is a talent or skill you have the would surprise most people?
We are also beekeepers!  Chris and I joke that we have 30,002 pets.  Our cat, dog, and a whole colony of bees!  Learning about the inner workings of the hive, their communication, and being able to experience it has been fascinating.  Keeping bees is also difficult at times, and we've had the stings to prove it!  Every time we check in on them we learn something new.  The reward of keeping a happy hive in addition to harvesting honey is a nice payoff.
About Horrible Adorables:
Horrible Adorables are the creations of Jordan Elise Perme and Christopher Lees; a wife and husband team from Cleveland, Ohio.  They met at the Cleveland Institute of Art where Jordan graduated with her BFA in Fiber & Material Studies, and Chris was pursuing training in fine arts after completing his BS in Mechanical Engineering.
Jordan and Chris bring their soft sculptures to life by meticulously arranging patterns of felt scales onto hand carved forms.  The resulting characters have qualities that are both cartoonish and eerily realistic at the same time.  Horrible Adorables are strange hybrid creatures from a fantastical world.  Their facial expressions and postures reveal recognizably human emotions as they interact with one another.