We are excited to bring you another guest blog from Chris Holt, aka The Toy Viking! Check out his interview with Greg Rivera of Mishka!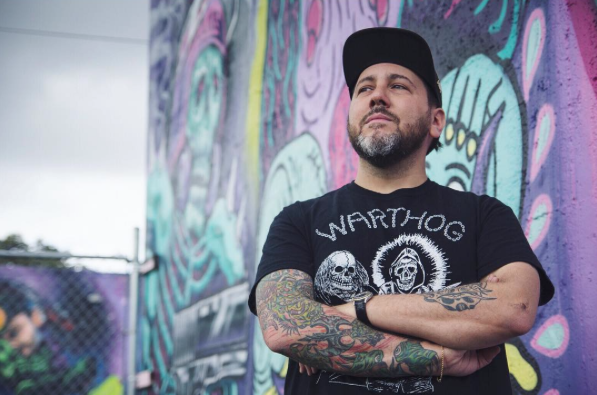 —————————————————————————————————————————–
In celebration of the release of the Mishka Dunny Series, we wanted to take a closer look at the Mishka brand. So we reached out to the man himself, Mr. Greg Rivera, and fired off some intense questions to get the inside scoop on the figures, professional wrestling, and a slew of other topics that will keep you awake at night. These were no softball questions; these cut straight to the bone. They're tough questions with shocking revelations, so be forewarned.
For those of us that buy our clothes from the estate sales of dead lumberjacks, how do you define what the Mishka brand is all about?
Mishka is for the freaks, geeks and weirdos. We were the kids who ate lunch by ourselves in high school and sometimes we still do. We never really fit in with any specific group. Wear your weird.
New York Fashion Week just passed. If you had unlimited resources, describe the perfect Mishka runway show.
It would probably include the Rock a fire explosion, Mr. T, Weird Al, and shit load of slime!
This new Dunny series is pretty intense and looks like they may be interested in stealing my lunch money.  Is there any danger of that actually happening? I'd like to take the necessary precautions.
Yes, if you actually complete the set they will come alive at night. Hide your kids, hide your wife.
Are you nervous that Vince McMahon is gonna ruin your life because you included a tribute to Doink the Clown in the Dunny Series?
Everyone knows Vince McMahon is a jabroni!
As a follow up how mad are you that they don't have a female Doink the Clown character on Total Divas?  Imagine the hijinks!
I am still mad that they cancelled G.L.O.W. now you are making me angry…
You've got some pretty killer artists that have their work featured on these figures.  Tell us a little about who's involved.
Dan Thompson, Ray Martinez, Mikhail Bortnik, Maurice Blanco, Lamour Supreme, Greg Rivera. pretty much a design dream team. It's the entire Mishka crew. I wanted our entire Creative staff to have a go at it. Also Doink was originally done by our first Art Director MIke Jones!
You've got a world famous Mr T collection.  Is there anything else that you collect that you can legally admit without fear of prosecution?
Hrmm. I have an ancient Egyptian mummy hand, a prop ET hand, and Elephant foot umbrella/cane holder
——————————————————————————————————————————
The Mishka Dunny Series is now available at Kidrobot.com!