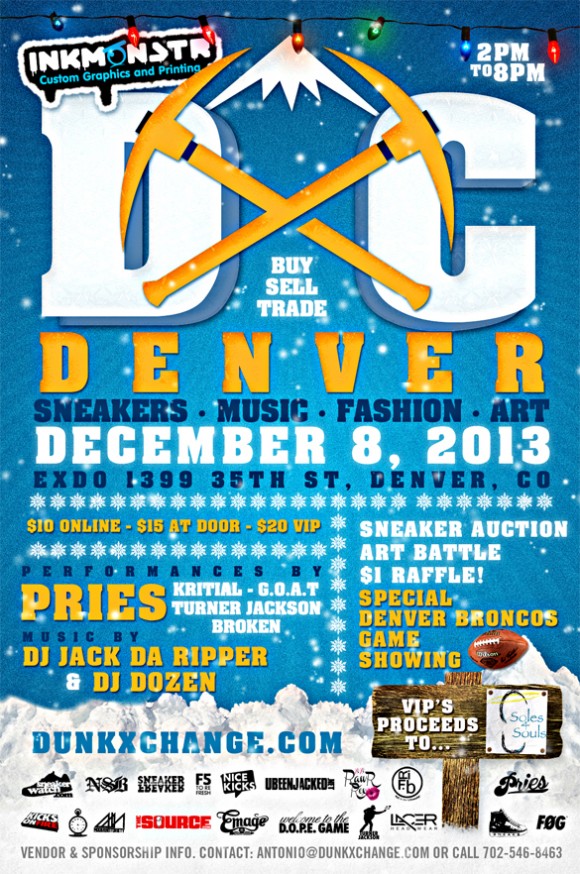 Attention Denver Sneak Heads and Music, Fashion and Art aficionados! Dunk Exchange is happening in Denver  this Sunday, December 8th from 2-8 at EXDO Event Center. Dunk Exchange, offers Sneak heads an opportunity to buy, sell, and trade their most dope sneakers and apparel.
Dunk Exchange is a non-stop action event with performances by Pries, Kritial, G.O.A.T. Turner Jackson and Broken. Music by DJ Jack Da Ripper and DJ Dozen. There will be a sneaker auction, an art battle, $1 raffle, and special Denver Broncos game showing! Plus rumor has it Kidrobot Boulder is hooking up gift bags to a few lucky sneak heads.
Tickets are $10 on line, $15 at the door and $20 Vip (VIP Proceeds go to Soles for Souls).
Come out and support your local Sneaker, streetwear and hip hop culture!
Learn more about Dunk Exchange here!