BEEEEEEEEFSQUATCH!
Kidrobot is excited to announce the launch of a new Kidrobot x Bob's Burgers vinyl toy series kicking off with the baddest burger-loving middle child of the Belcher's in Beefsquatch form.
The new Beefsquatch 7" Medium Figure is now available for purchase in select retailers worldwide and online at Kidrobot.com including a Kidrobot.com exclusive alternative purple colorway figure.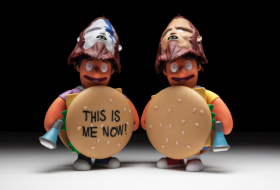 Ever go through phases of your life that one one understands? Ever sat at the kitchen table and felt like your family just didn't get you? Well, you and Beefsquatch already have something in common. Let your inner squatch show when you pick up this new medium figure complete with the removable mask and mega phone, this piece is perfect for any Bob's Burgers fan.
Along with this new Beefsquatch series, you will soon be able to enjoy additional Kidrobot x Bob's Burgers items including medium figures, keychains and mini series launching throughout 2017!
THIS IS ME NOW!