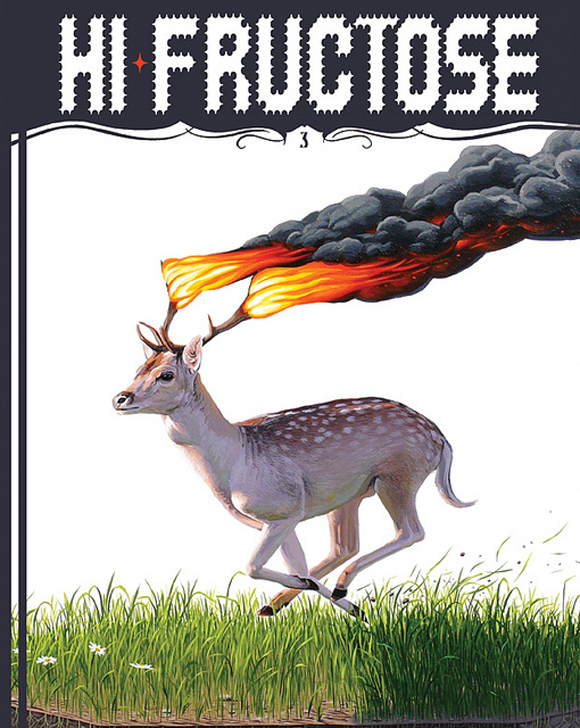 Hi-Fructose has been a staple of the art community since it's debut release in 2005. Attaboy and Annie Owens consistently put out amazing eye candy and articles on the artists we all know and love. Currently they are gearing up to release the Hi-Fructose Collected 3 Box Set! If you have ever seen the other two box sets, then you know they dont do anything skimpy. This set is coming in over 300 pages and packed full of more goodies than Santa's sleigh, and they even got an introduction by Morgan Spurlock. Keep an eye on Hi-Fructose for preorder info, but until then check out what all you get.
Featured in the box set are many of your favorite Kidrobt artists and alot more like:
Sam Gibbons, Tom Haubrick, Tara McPherson. Ekundayo, Liz McGrath, Stella Im Hultberg, Chris Berens, Jeff Gillette, Dan May, Kevin Cyr, Nicolas Di Genova, Andrew Hem, Laurie Hassold, Yosuke Ueno, Bob Dob, Chris Scarborough, Chris Ryniak, Camilla d'Errico, Mandy Greer, Glenn Barr, Charlie Immer, Thomas Doyle, Nicola Verlato, Damon Soule, Tiffany Bozic, Mark Ryden, Brandi Milne, Chet Zar, Brandt Peters, Scott Hove, Mike Shine, Gabriels, Fuco Ueda, Luke Chueh, Travis Lampe, Michael Hussar, Josh Keyes, JinYoung Yu, Todd Schorr and Michael Page.
Plus Special Items, which are only available in the Limited Edition Box Set:
A SPECIAL ITEM by  McBess.
A SPECIAL ITEM by Mark Ryden.
A SPECIAL ITEM with art from Tara McPherson, Travis Lampe, Bob Dob, Brandi Milne and Luke Chueh!
As well as Special Edition ITEMS from: Junko Mizuno, Skinner & Martin Ontiveros,
packaged in a fold-out portfolio display.
It comes in a spiffy ribbon-tied Deluxe Box Set that is limited to just just 2500 copies.