Customs from the Second Annual DTA Dunny Show are now available from Clutter Magazine! The DTA Dunny show is a group custom show of 20" and 8" Dunnys by a variety of skilled artists. Sales from the show benefit the Designer Toy Awards, helping to finance the awards ceremony.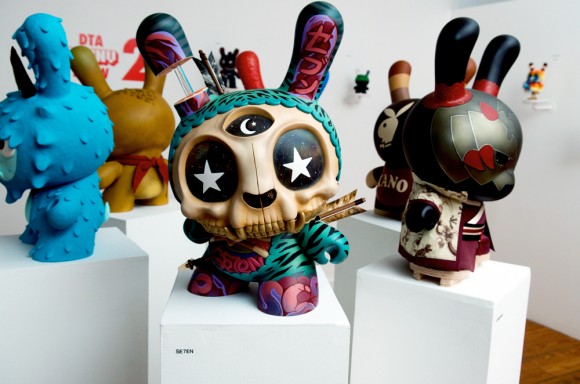 The show has returned with a host of talented and esteemed artists including: Abell Octovan, Andrea Kang, Artmymind, Brent Nolasco, Charles Rodriguez, Chris Ryniak, Dolly Oblong, fplus, Amanda Louise Spayd, Gary Ham, Gianluca Traina, Ian Ziobrowski/Nugglife, Jenn & Tony Bot, kaNO, Mab Graves, Quiccs, RxSeven, Seymour, Sket One & Jamie Lee Cortez, and Yu Maeda.
The exhibit will be on display until February 5th. The Clutter Gallery has the remaining pieces available for sale in their physical location and on their website.