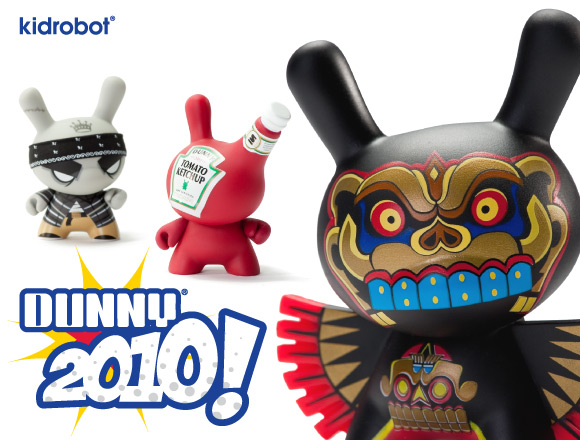 Booom!! The world's greatest vinyl canvas is back in an all-new series featuring re-imaginings from nineteen amazingly creative artists. With 21 different Dunny variations— including wizards, sports fanatics, martial artists, BFFs, cholos, and condiments—this is our most exciting series yet!
Each blind-boxed 3-inch Dunny figure comes with a trading card and a chance to win a super-rare Golden Ticket Dunny. Some include accessories and some don't. All are waiting to blow your mind! Dunny Series 2010 is now available for $7.95 US (£7.25 UK; 8€ Europe) at Kidrobot stores, kidrobot.com and select retailers around the globe.
Artists in this series include Amanda Visell, Aya Kakeda, CW, Damarak the Destroyer, Doktor A, Esther Kim, Frank Kozik, Huck Gee, Jesse Hernandez, MAD, MCA, Michelle Valigura, Shelterbank, Sket One, Sneaky Raccoon, The Beast Brothers, Tizieu, Travis Cain, and Triclops Studio.
[nggallery id=202]