It's Fan Friday! And today's awesome collection is from KidRobot superfan Eric McKinley.

What was your very first collectible figure?
The first figure I found was on a shelf at the local goodwill (I flip items for extra money), and I was amazed by it. I thought "this is not a toy for children and why do I like it so much?" It was a Kaniza toy Qube Cluster 1 Candykiller by Keith Poon.
When did you start collecting KidRobot figures? What made you want to start collecting KidRobot specifically?
I found out about KidRobot after I started researching what art toys were. The one I found at goodwill sent me in a spiral that I could not get out of. I looked at ebay and saw that someone was selling an unopened case of the "night riders" by Nathan Jurevicius and I had to get them. I think that they are still my favorite blind box figures that I own.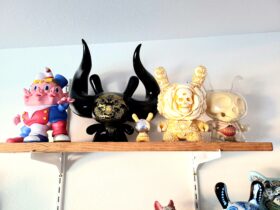 What is the 'holy grail' figure in your collection?
The "holy grail" piece that I have is an "infected" dunny by Scott Tolleson at a limited edition of 15. I love it.
What is something you've been searching for but have yet to find?
I have yet to find a dunny that looks like my black cat. I'm hoping to find one so I can put it in my collection.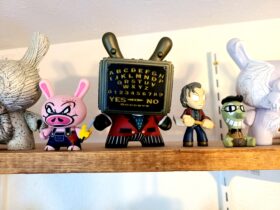 How do you store and protect your figures?
I dust them regularly with care and love.
What do you love most about the KidRobot and the collector community?
I love the innovation. There is so much creative energy behind what people create. It's what inspired me to start selling my toys (using the dunny form) through tenacioustoys.com customs section. It's allowed me to create some really cool pieces. I love looking at what other are able to do as well. People like Jryy, Kozik, godmachine, etc…… all inspire me to keep making what I'm making.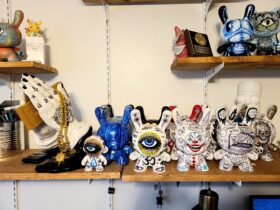 Any figure you are looking forward to or would like to see in future?
I am so looking forward to Breaking Free by Whatshisname. It's one of the coolest figures I've seen in a long time. I also like the collaborations with artists such as Basquiat, Haring, Hokusai, Kahlo, and Demuth. It's all amazing. I'm looking forward to what's in store for the future.