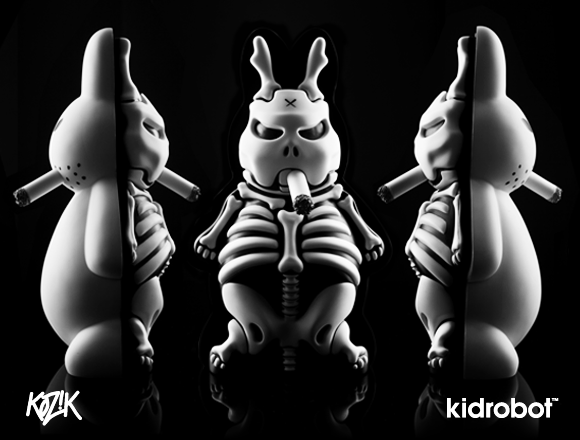 The latest edition by Frank Kozik is double the Smork! Collect both the Skeleton Labbit "Something's Under the Bed" Edition, and the Skeleton Labbit "Frightmare" Edition!
Kozik likes to call him Janus Labbit. The Skeleton Labbit smorking to the past and the future. Featuring the classic white Kozik icon fused with a detailed relief sculpt Labbit skeleton, the two faced vinyl Skeleton Labbit stands 10 inches tall and embodies Labbit's beginnings and endings. Originating in the world of myth, these gatekeepers are limited to 666 pieces worldwide. Guarding the doors of time starting April 25 at Kidrobot stores, kidrobot.com, and select retailers worldwide. Skeleton Labbits are $75 US
He is the Labbit of beginnings and transitions. Of gates, doorways and time.
He is a two-faced figure and he looks to the future and the past.
Use him as a guide to open the doors of perception, baby.
Smork dem bones.
For Kidrobot San Fran Fans! On April 25th 6-8 we will host your smorkin bones and vinyl passions with a release day signing event at our store! Come meet and hang with Kozik himself!
[nggallery id=390]