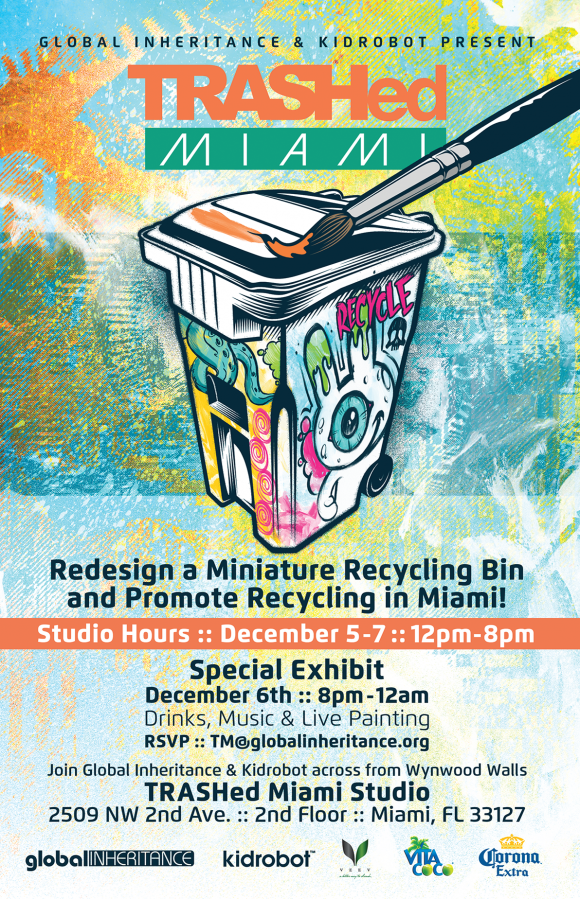 Join Kidrobot & Global Inheritance at the TRASHed Miami Studio Event!
This 3 day interactive gallery and event will showcase the art of Kidrobot Family and friends for a great cause! Featuring art by: Greg Mishka, L'Amour Supreme, Phetus, Sen2, Galen McKamy, JerkFace, Carson Catlin, Jryu, Vampy, and many more! In the Miami hot spot for the arts, across from the statement Wynwood Walls, this will be an experience to have and to share as you celebrate Art Basel Miami!
Be sure to join us for the Exhibit Party on December 6th from 8-12am where Greg Rivera of Mishka and L'Amour Supreme will each conquer giant 52 gallon Recycling bins with their live customization and make them their own!
With Partners like Apple, Coachella, NIKE, Disney, Red Bull, The North Face, Focus Features, Fox and many more, Global Inheritance stands out as a hyper creative, smart, and earthly force to be reckoned with!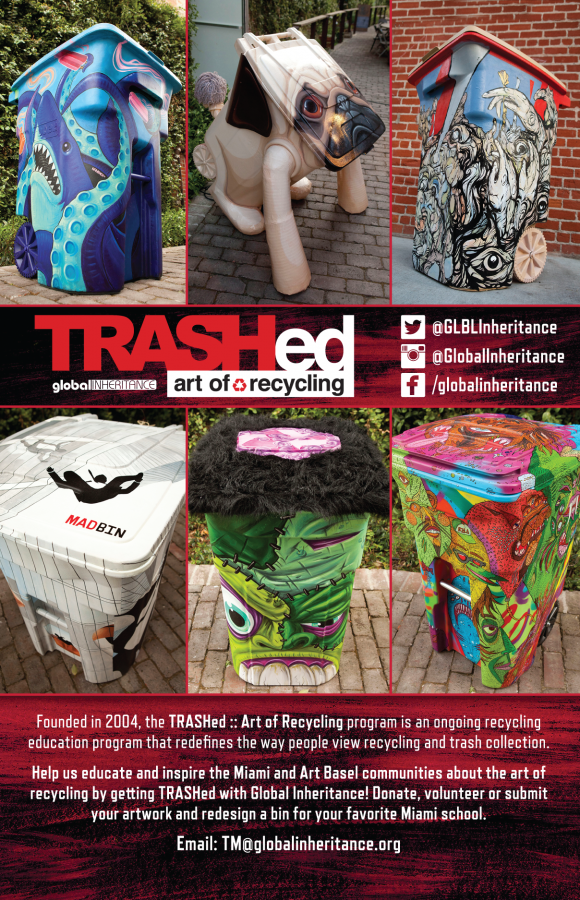 For you dedicated Coachella fans, you certainly know the staple customized bins that populate the festival grounds. From instagram, to facebook and your own scrapbook, these bins are as famous as the Ferris Wheel itself. For those just learning about these beasts, here's the dish!
Born in 2002, GI is a 501(c)3 non-profit organization that develops creative, cause-based campaigns to educate individuals about issues that affect us globally.
Their unique programs focus on the power of interactivity to communicate ideas that push for progressive social change by empowering millions of individuals at festivals, events, workplaces and schools throughout the world.
By employing technology, the arts, and experiential learning, Global Inheritance reinvents activism by inspiring people from every walk of life to act responsibly and become forward-thinking leaders within their community.
TRASHed :: Art of Recycling is an ongoing educational program that redefines the way people view recycling and waste collection. By commissioning various artists to redesign large and miniature recycling bins, the campaign draws positive attention to the issue of waste reduction, while bridging the gaps between art, education, and sustainability.
The TRASHed Miami project aims to inspire and educate the Miami community about these issues. The exhibit and art workshop feature miniature recycling bins reimagined and redesigned by artists from around North America. All proceeds from the sale of Mini-Bins will go towards bringing large TRASHed :: Art of Recycling bins and interactive recycling initiatives to Miami-Dade schools.
What People Say About Global Inheritance
"I love Global Inheritance for the approach they have made to dealing with an unfashionable subject. It is really hard to sustain interest in a subject that is permanently a worry. Global Inheritance is doing that, particularly with a new generation who may actually care about their future."—
Harvey Goldsmith – CBE/Live Aid Co-Founder
"Eric is really intelligent in the way that he brings together the arts, technology, and the accessibility to all generations. . . . At Coachella, they innovated the 10-for-1 Bottle Exchange, which is now becoming a best practice at music festivals internationally. The diversion rate—the amount of waste that we divert from the landfill—is highest at the events that we've had Eric and his team."—
Jennifer Regan – Manager of Sustainability Programs/AEG Sustainability
"Time and again, Focus Features has collaborated with Global Inheritance to develop alternative programs to reach audiences that desire important films. Global Inheritance represents the individuals who are making a positive difference in society today"—
Kyle Thorpe – Vice President of Publicity/Focus Features
"Global Inheritance doesn't require being a vegan . . . . It doesn't mean driving a hybrid car . . . . And it isn't lecturing or preaching to those who don't live the stereotypical green lifestyle. What makes Ritz's brand of activism different—and what fuels his efforts—is that unlike earlier generations of social advocates, Ritz said he and his Generation Y audience don't see big business as the enemy."—
Abigail Gold – Los Angeles Times
"The TRASHed Recycling Store is a great solution that allows festivals and event producers to create an incentive-based program for people to recycle"—Stephen Rehage – Producer and Owner/Voodoo Music Experience