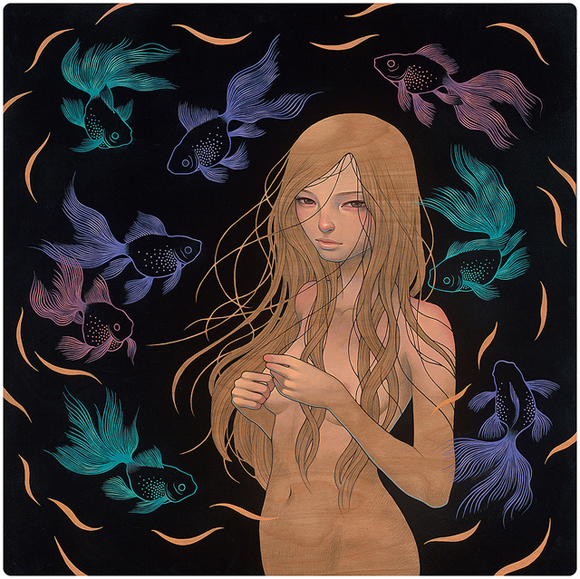 Hi-Fructose returns again to this year's San Diego Comic-Con with a jam packed lineup of exclusive prints. Within these signings are some much loved Kidrobot artists like Luke Chueh and Junko Mizuno with the amazingly talented Audrey Kawasaki also in the mix. Hi-Fructose moves out of the cultyard this year to a new location booth #1614 with Last Gasp which should help make everyone's life a tad better away from gaming. The Hi-Fructose booth has been a stand out leader for SDCC for many years and always go out of their way for the true fans.
Luke Chueh's print "Red Skull" is silk screened on 3/4″ birch wood, and each print will be signed and numbered at the event by the Luke himself.  The  12″x 15″ Red Skull wood print is $75 and limited to a low edition of just 50.
Audrey Kawasaki has two exclusive prints with "Keeper" and "Things Unsaid" in an edition of 200 each. Keeper comes in at 18″x18″ for $150 while Things Unsaid is 14″ x 22 3/4″ for $140.
Junko's "Pancakes" is 14″x17″ silk screened serigraph on 3/4″ wood edition of 50  $125
For more information and signing/release times, check out the Hi-Fructose site http://hifructose.com/.