On Thursday, May 29th join Insomnia and Houston's own Jermaine Rogers as they celebrate Jermaine's newest Kidrobot production piece  'My Brother Was a Hero."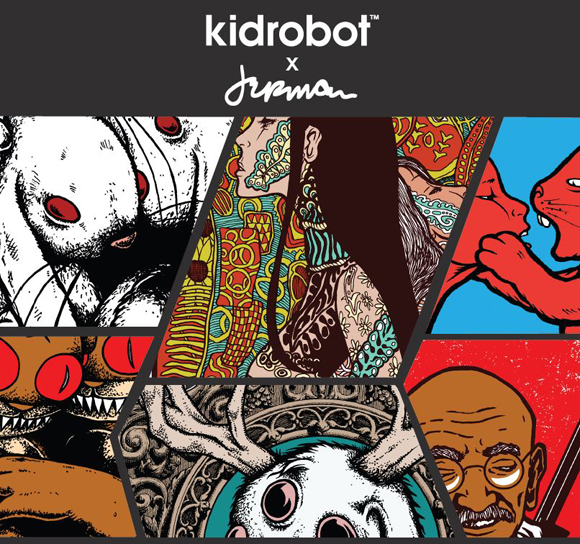 Jermaine will be at Insomnia signing the pieces and anything else you want to bring in.  On hand will be  many Jermaine items including the 'My Brother Was a Hero' vinyl figure, exclusive print, official Kidrobot apparel, and free food and drink! Insomnia will also be raffling off the black variant of this Jermaine's newest KR piece!
My Brother was a Hero
Standing 8 inches tall this new amazing art piece by Jermaine comes packaged in a gorgeous full color deluxe box. I
"This place…these ancient woods that surround you: they belong to us. The trees that loom about you, silently granting you shelter and sustenance. The solitary, sun-spotted clearings where you filled the days of your youth with horseplay and dreaming. The cool streams snaking through this fertile landscape, where you quenched your thirst and bathed your body. It is ours. A sacred birthright."
"And it is worth any sacrifice."
"Live Suspiciously."
APPAREL x KIDROBOT
In addition to the vinyl figure, Insomnia will also be carrying four different t-shirts and two different hats. They will also be well stocked with a large selection of his larger concert posters available as well as some smaller art prints. Jermaine might also bring some of his own supply with him.
FREE PRINT!!
With purchase of the 'My Brother Was a Hero' vinyl figure, you will receive a FREE limited edition print from Jermaine! This will be the first time this print will be available anywehre. As Insomnia puts it, " It may be a variant on the original piece that inspired the figure, it might not! He's staying pretty tight lipped on it, but may leak it sometime next week."
RAFFLE
The raffle for the black variant (and maybe some other cool stuff) will be held at 9:00pm. Good luck!