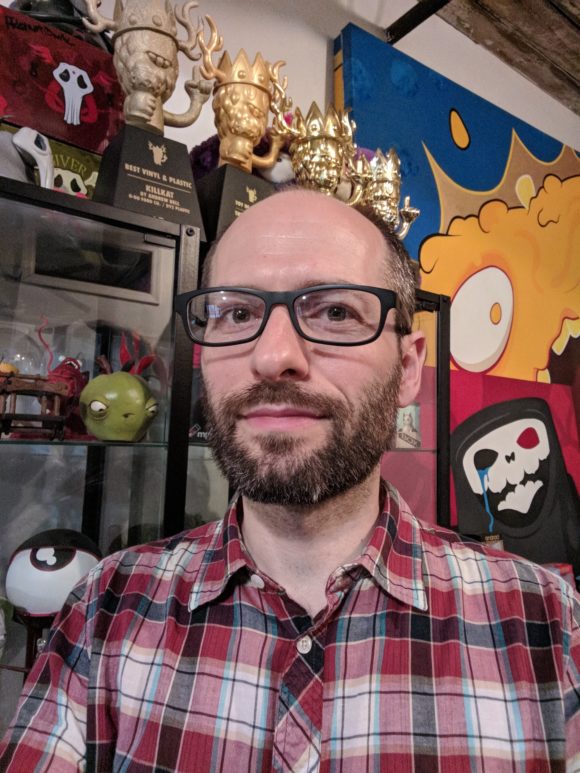 Few artists have been involved with Kidrobot since the beginning but New York-based artist Andrew Bell is one that can make that claim. Collaboration after collaboration, his work has remained fresh, interesting, and at times, infused with deliciously dark humor. Enter Kill Kat – the parody of the popular candy made of chocolate-covered finger-like wafers.
Immediately, the Kit Kat bar and Andrew Bell share a common birthplace – England. The modern Kit Kat bar was introduced by York, England-based confectionary "Rowntree" in 1935, although they trademarked the names "Kit Cat" and "Kit Kat" twenty-four years earlier, in 1911.
Fast forward to modern times (yes, even beyond the horrid "Break Me off a piece jingle") and Andrew Bell has been lampooning the brand for a while. Careful, of course, to regularly add these disclaimers to the each ad or appearance of the figures:
"This is a parodic work of art, not a food product. This work is not sponsored, endorsed, authorized by, or in any way affiliated with The Hershey Company or any of its subsidiaries or its affiliates."
Recently, we cornered the affable Bell in his New York home and asked him a few questions regarding our upcoming Kidrobot exclusive Kill Kat – Pumpkin Spice Edition 6" Art Figure – and this is what happened:
---
KR: How many versions of Kill Kat are there?
AB: Oh, let me look at my display case here. (rustling noises) Okay, so we got regular chocolate, dark chocolate, banana, matcha, white chocolate, strawberry, we got purple drank, cappuccino – and that's eight, sake – that's nine, so I think this might be ten. Oh wait – glow in the dark, so I guess this is eleven. Yeah, eleven. We've been going strong with this. There are just so many flavor variations to play off of.
KR: What was the inspiration behind the Pumpkin Spice edition?
AB: Ah, you know, the ubiquitous pumpkin spice flavored everything that pops up everywhere about this time of year. It felt natural to transition that over to this figure as well. Yeah, and it seems to be popping up earlier and earlier every year too. It's the middle of the summer and people are like "wait, what's going on?" You know, there's nothing wrong with it, really. I even find myself enjoying some pumpkin beers at that time of year.
KR: What other candy-related figures do you have?
AB: Well, there are some I have that are coming up. Like "The Kisses of Death," that are coming up soon. You can see that on my Instagram. So these are three packs of 2-inch vinyl figures and there's a 4-inch one that has a skull on it that has a window box. We just got that shipment in so it'll be out soon. I've done some other stuff in the past but the Kill Kats are based off an original sculpture I did years ago for a Halloween show that combined candy and my specialty – monsters. Very fitting, of course, for Halloween.
KR: Do most of your toy designs begin with a sculpture?
AB: Well, everything starts with a sketch and then I'll sculpt it out. Either roughly or digitally and then go from there to production, or not, depending on how it comes out. So a lot of things don't see the light of day, publicly. I'm always experimenting.
KR: Your killer candy series obviously has a humorous angle. Do you remember when you first got the idea for turning candy into funny little evil things?
AB: I mean, I've always had food as a part of my art. One of my first was O-No sushi, which is still going on and I've added to that series over the years. I think I kind of established a mood and a feeling that's humorous, a little sad, and maybe even confusing at the same time. People will see these pieces and go "aww, that's terrible – I love it!" That kind of situation. It's great to see it happen at shows and Comic Cons. Watching people's faces light up and then drop and then light up again.
KR: So you still make the Cons every year?
Yeah, I've done San Diego for eighteen years in a row now and I try to drop into New York every year for a signing or two. And I do Designer Con and a few smaller ones now and then. I did Five Points the last couple years.
---
Following our Q & A, we talked a bit about his upcoming honeymoon trip, how long he has been kicking around with Kidrobot, and it was clear that Bell is a man with a great sense of humor and humility to top off his talent and prolific career. He even emailed me later, wanting to make sure that I mention one last thing about the Killer Candy series:
AB: I also wanted to mention that figures like O-No Sushi and Kill Kat present an opportunity for people to pause and think about their food, what's it's made of, where it's from and what sort of effect that might have on their life, health or environment.
---
---
NOTE: Refresh that link at the time of launch: September 6, 2019 at 10am MT
Kill Kat – Pumpkin Spice Edition 6″ Art Figure by Andrew Bell is a Kidrobot.com Exclusive, limited to 400 pieces worldwide and will be released at 10am MT on Friday, September 6th, 2019.
---