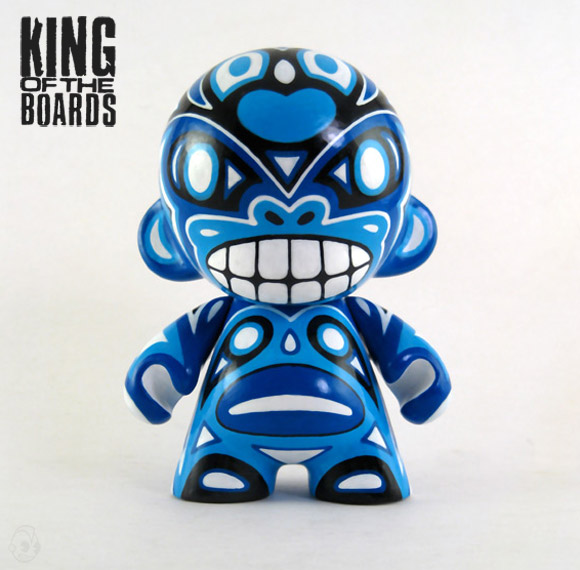 UPDATED: 6/20
Welcome to the Kidrobot Forums exclusive custom giveaway, KING OF THE BOARDS. Every month we shine the spotlight on one of the insanely talented artists and outstanding discussion board members while giving you a shot at scoring one of their original custom art toys. Now is your chance to enter and win this one-of-a-kind 4-inch Mini MUNNY by Reactor-88. Email wheelbarrow@kidrobot.com with a picture of your favorite custom MUNNY of all time (it's cool if you have more than one) by 5pm EST next Thursday, June 16 to enter in the random drawing. Please title your entry email Reactor88 MUNNY.
This month we bow down and pay respect to LA artist and web designer, Reactor-88 aka Ryan Crippen. He has previously been featured on the KRonikle and is very well known in the toy community for his clean and cool Skull-Spade stylings and totem inspired custom designs. Reactor-88 partakes in custom art toy shows and gallery exhibitions around the US and abroad including his latest work in the Ghost In The Machine show at myplasticheart. He was one of the artists selected for the Skelanimals x Qee Series 1 last year as well. Whether it's canvas, plastic or a 3-D digital design, Reactor-88 is a man of many talents. Ryan has dreams of one day having an actual totem pole in his yard but an actual skull-spade would be kind of creepy. We caught up with Ryan and got the down low in the art realm of Reactor-88.
[nggallery id=263]
KR: How long have you been a board member and why did you join?
R88: I started lurking in late 2005, but I've been an official member since April of 2006 (wow it's been over five years now…) As for why I joined- I bought a MUNNY late in 2005 and was searching around online to see what people were doing with them. I came across the board, lurked for a few months, and the rest was history. I'll admit these days I don't spend too much time on the board, but I still poke around now and then and throw out the occasional comment.
KR: What inspired you to start customizing toys?
R88: I was focused on digital art for many years and was getting kind of burned out, so in 2005 I decided to get back into traditional drawing and painting. Around that time is when I discovered the world of vinyl art toys and Kidrobot. I still remember that first time I was down on the 3rd Street Promenade in Santa Monica and saw the Kidrobot store. I walked in and was blown away. After seeing all the cool toys and things people were creating, it made me want to give it a shot as well.
KR: Who are you favorite artists and/or biggest influences?
R88: I'm inspired by the usual stuff- cartoons, comic books, movies, pop culture, etc. I'm also a big fan of classical art, photography, textiles, architecture and industrial design. There's a ton of artists that I enjoy- from Mark Ryden to Audrey Kawasaki to El Mac and lots of folks in-between. The list could go on forever. I also want to give a nod to all the awesome toy artists out there that constantly push the limits and inspire me to keep doing what I do- you know who you are…
KR: What was you first toy?
R88: I bought a vinyl Pug piggy bank (Puggy bank?) at Giant Robot- Even though it's an actual bank, I consider it a toy. If that doesn't count, a while after that is when I bought my first MUNNY. If DIYs don't count, I then bought a blind box LA Series Dunny. :)
KR: What are your plans for the future?
R88: I've been keeping a bit of a low profile for a while now- I'm trying to work through my old commission list and get to some long overdue projects. I'm also doing a handful of select shows this year- no where near as many as I was doing in previous years. Once I can free up some time I'd like to start creating some original resin toys. Beyond that, as long as folks keep enjoying my work I'll keep doing what I'm doing. Oh yeah, look out for one more Reactor-88 production toy design this year too :)
Get the full perspective of Reactor's art on his website or follow him @reactor88 on Twitter.
Congratulations to…
Sal R. of Detroit. You are the proud new collector of this Mini Totem MUNNY by Reactor 88.