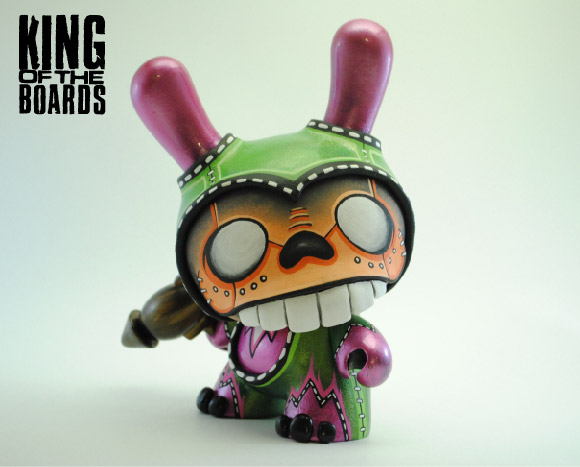 UPDATED: 9/28/10
Welcome to the Kidrobot Forums artist custom contest, KING OF THE BOARDS! Every month we honor one of the many talented artists from Kidrobot's discussion boards for their incredible art and dedication to the vinyl community. Plus you can win this amazing custom 8-inch Dunny designed by Rsin Art. To enter, email wheelbarrow@kidrobot.com with a picture of your most prized Dunny in your collection by 5p EST this Friday, September 24. Please title all entry emails KING OF THE BOARDS – Rsin Art.
This month's KING OF THE BOARDS is Rsin Art. Hailing from Pennsylvania, Rsin has made a prominent name for himself amongst the custom toy community. He has featured his charismatic Whisper Style art works in numerous vinyl shows around the US since 2007. Taking on commissions and creating new art works, Rsin keeps pushing himself to the next level. He took a moment to give us some insight into the world of Rsin Art.
KR: How long have you been a board member and why did you join?
RA: I have been a board member since July of 2007 I believe.  Before that I visited the boards often and watched in the shadows.  I really didn't know much about the vinyl toys besides what I saw in pictures.  At that time I had no idea where to even buy toys, or how to paint customs.
KR: What inspired you to start customizing toys?
RA: Back in July of 2007, I was asked to participate in a small custom show at a local mom and pop shop.  They had just started carrying vinyl toys and wanted to do a show entitled "The Blow Up Show" all customs were on Jamungo Nades.  Prior to being asked to custom one, I had never painted.  I sat down with no knowledge of what I was doing and created my first custom.  After that it wasn't till December of 07 that I got interested in painting again.  I got a 7-inch MUNNY, and made it for Lindsey (future wife, Oct 2nd!) All of this was shortly after my mom passed from brain cancer.  To this day she and my family are my inspiration.
KR: Who are you favorite artists and/or biggest influences?
RA: Wow, that such a hard question to answer.  Most of my favorite artist are the guys posting on the various boards, us little guys.   Kinda crazy how in 2007 I was viewing work by Motorbot, Drilone, Southerndrawl and more on the boards and being amazed by what they were able to do.  Now I get to show work along side all the guys I looked up to when I started, its an honor.  My list of custom artist I love is far to long.  I would feel bad for leaving anyone out.  You guys all know I got a lot of respect for you, and thanks for making the past 3 years enjoyable.  You all keep pushing me.
KR: What was you first toy?
RA: Growing up I collected everything from He-man, Star Wars, GIJOE, and more.  I've always been collecting something.  I knew about vinyl toys for some time and didn't have an idea where to find them.  Shortly after the Azteca series was released Lindsey bought me a blind box from a local Urban Outfitters that just opened.  That was my first taste of Vinyl toys and its just been growing.  I don't make a lot of money with trying to live off art, but the money I have that's extra I spend on toys.
KR: What are your plans for the future?
RA: With only painting 3 years now, I am still learning everyday and still growing as an artist.  I'm not looking to far into the future as I am happy where I am, I love painting toys.  Right now I get to wake up everyday and create art for people. I have had some amazing people support me and my art over the past 3 years.  In 2011 I plan on a few new projects for "The Whispers."  Also working on some sculpts I hope to do in resin sometime next year.  Besides that I am going to just keep working till someone gives me a chance to design for them or create an original piece.  There may be a few surprises this year as well if all plans work out.  Last to everyone who has bought art from me in the past.  Thanks, without you guys and the kind words the forum has given me I might of given up on this back when I started. You all have helped me learn something that I now can't give up.  I hope you all enjoy what I made here, cause I love it.  Thanks.
[nggallery id=208]
Congratulations to Alex S. of NYC! You are now the proud owner of Rsin's beautiful custom 8-inch Dunny.