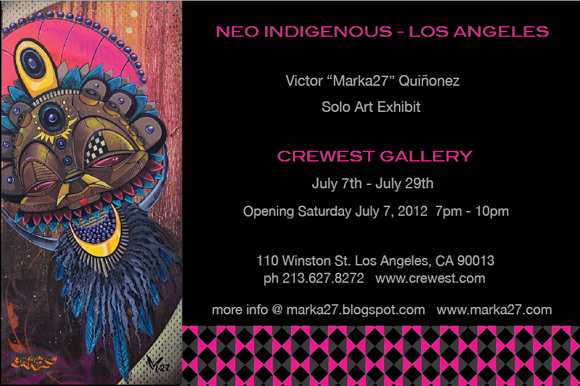 [
PRESS
]
Marka27
brings his critically acclaimed new body of work,
Neo Indigenous
, to the City of Angels on
Saturday, July 7, 2012, from 7-10pm
. Hot off the heels of his packed-house
New York City premiere
, MARKA27 indulges Angelino tastemakers at
Crewest Gallery
(110 Winston Street, Los Angeles, 90013) with his newest mix-media exhibit. From
July 7 – 29
art lovers will journey through the artist's exploration of binding ancient Aztec, African, and Asian art forms with modern pop culture and street art.
Neo Indigenous celebrates Marka27's highly-anticipated return to Los Angeles. Representing a shift in the artist's cultural consciousness, Neo Indigenous embodies Marka27's quest to bridge past with present, illustrating his yearning to bring deeper meaning to both old and new art forms. By juxtaposing ancient elements with contemporary design aesthetics, Marka27 reveals both a connection and a disjuncture in the process. Challenging viewers to confront the existing practice of commodifying art, the exhibit leaves a lasting impression– a mark Marka27 has predicated his reputation on.
Using multiple mediums such as paintings, collectible vinyl toys and speakers, silk screen panels, and prints, Neo Indigenous is a sensory feast of the artist's ability to float seamlessly between varying art forms. As a special treat and tribute to a city he once called home, never-before-seen works will be unveiled and the artist himself will create a live installation piece. Having worked with clients such as Pioneer Electronics, VH1, Disney, Scion, and Kidrobot, Marka27's LA premiere is the go-to event of the summer!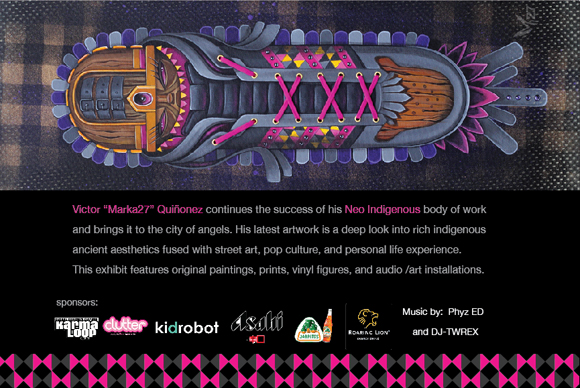 via Marka27 Blog