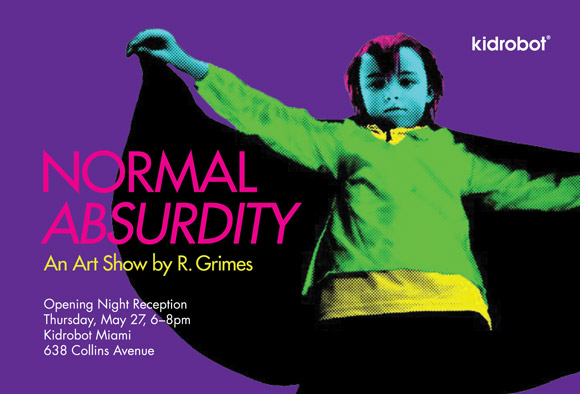 Is normalcy absurd? Is absurdity normal? Decide for yourself at Normal Absurdity, the multimedia installation from Rocky Grimes. Utilizing silkscreen prints, found objects, and video, Normal Absurdity examines and challenges the relationship between the conventional and unorthodox.
Self-taught artist Rock Grimes fuses his thoughts and conceptualizations of the world around him into visuals and enviroments to which audiences can easily relate. His work has been seen throughout the United States in publications, galleries and as live interactive screen printing sessions.
Normal Absurdity's opening reception takes place this Thursday, May 27 from 6-8pm at the in-house gallery of Kidrobot Miami, 638 Colins Ave. on South Beach.
Check out Rocky's artist feature on the KRonikle for more information and examples of his work.