Kidrobot has unearthed a long-lost chapter from Sun Tzu's military classic! 14 artists each tackle an aspect of warfare in the latest, martial-themed Dunny series set to release Friday, June 27th for $11.99 each.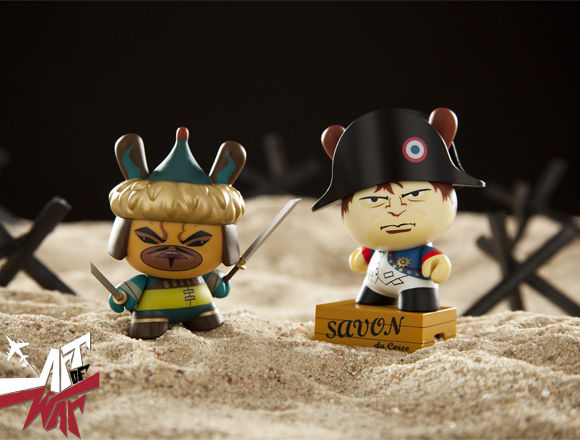 Featuring a spectrum of WMD thru the ages, learn from designer toy generals: Colus, Devious, Frank Kozik, ilovedust, Igor Ventura, Kano, Luihz Unreal, Huck Gee, DrilOne, Sergio Mancini, Patricio Oliver, JPK, Sam Fout and Shok1 – treatise topics include The Calculations, Illusion & Reality, and Vinyl Attack.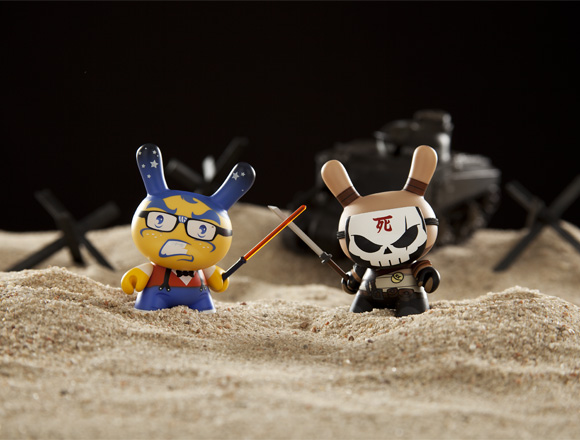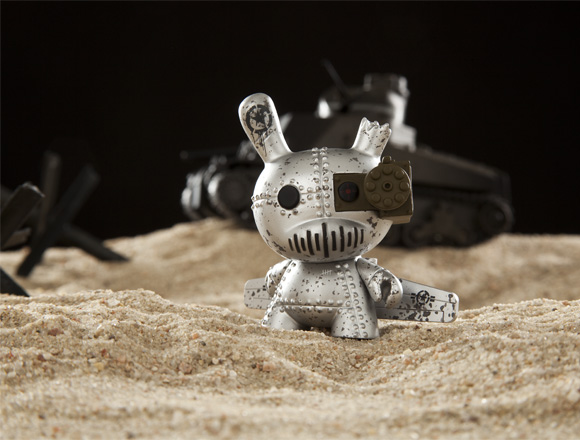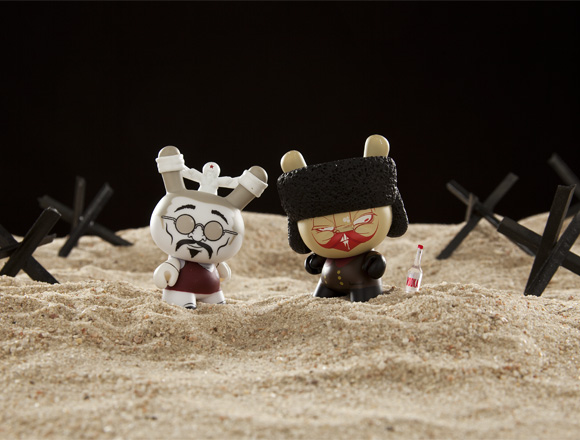 Acquire and internalize each lesson unit, for it has been said, "If you know both yourself and your enemy, you can win a hundred battles without jeopardy." Invincible dominion over your foes awaits!
Case Exclusive
Case exclusive! Purchase an entire case of Dunny Art of War and receive a free gift with purchase. Quantities of this case exclusive are SUPER limited so get yours fast! Without this figure you will not have a complete set! Below is a list of some places celebrating the release with this limited case exclusive.
Kidrobot: Boulder
Kidrobot: San Francisco
Kidrobot @ The Cosmopolitan of Las  Vegas
3DRETRO
A Shop Called Quest
ADVENTURES IN KITSCH
ANIME TO SKATEBOARDS
Art Attack Toys
Atama
Atomic Toybot
Bait
BASE
Bedrock City Comic Co.
Boss Robot Hobby
Camiondepompier
City Hill Co.
Daddy Kool
Missing Link Toys
Dragatomi
Dreaminplastic
Toy Art Gallery
FOOSH
FORBIDDEN PLANET NYC
Freak Store
Fully Laced
Forbidden Planet International
Cubo
GRAYWHALE
Gunnzo
Guzu Gallery
Happy Panda Toys
I Am Retro
Popcultcha
Insomnia Video Game Culture and Vinyl
Toys
KAWAII GIFTS
LIFT DESIGNER TOYS
Lulubell Toys
MADNESS GAMES COMICS
Magic Pony
Metropolis Comics and Toys
Mindzai Productions Inc.
Mixi-Bang!
MODA3
MONKEY SEE, MONKEY DO!
Mrs Tiggy Winkle's / Lost Marbles
MSX Tea House and Art Gallery
MYPLASTICHEART
NEWBURY COMICS
Paradise Toy Inc, Ltd
Park Ave CDs
PLASTIC CULTURE
POP MONSTER
P!Q
HEADQUARTER
Rivet
Rojo Bermelo
ROTOFUGI
Schmancy
Screaming Sky Gallery
Secret Fresh
SHAKE IT
SILVER SNAIL
Chindogu Gallery
SOMOS
SPANKY
Kinki Robot
SubUrban Vinyl Toys and Art
TATE'S COMICS+TOYS+VIDEOS+MORE
THE ARTIST'S EYE GALLERY
The Discovery Hut
Third Eye Comics
ToiToy
TOMENOSUKE-SYOTEN
Tomodachi
TOY TOKYO
TOYQUBE
TWIST AND SHOUT
ULTRA POP
VAULT OF MIDNIGHT
WORLD OF MIRTH
Zia Records
Kidrobot Release Parties and Signings
Stop by our Kidrobot Stores to join in the fun of celebrating the Art of War release with parties and artist signings!
Kidrobot San Francisco
1512 Haight St. San Francisco, CA
Friday, June 27th from 6-8pm
Artist signings with Frank Kozik, DrilOne, and Huck Gee
Kidrobot Boulder
1468 Pearl St. Boulder, CO
Friday, June 27th from 6-9pm
Artist signing with KaNo
A Word to Our International Customers
The worldwide allotment of the Dunny Art of War series has been held up in Hong Kong due to unforeseen circumstances and the United States will be receiving their inventory prior to the rest of the world.
Kidrobot encourages our consumers to support their local stores in light of these delays!
US Scheduled Release Date: June 27th, 2014.
Worldwide Anticipated Release Date: August 8th, 2014