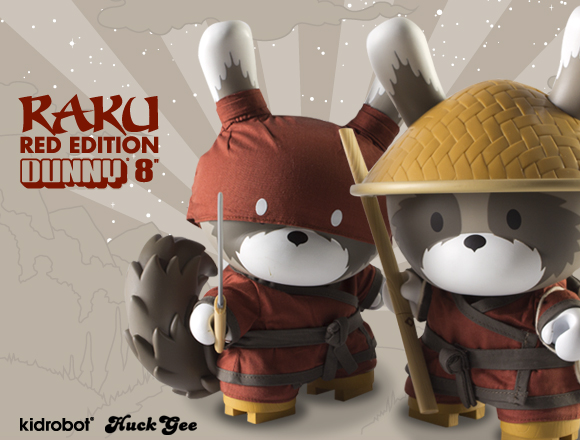 Raku Dunny Red Edition Kidrobot Exclusive
As a young pup, Raku Narazumono witnessed the brutal execution of his mother and father.  Their taxes were past due – the late fee, their lives.  Dragged to the magistrate's palace, young Raku was enslaved, forced to clean the gutters and sewers of the mountainside estate.  His days were spent toiling in filth, praying for divine deliverance, and studying every inch of the compound.
While silently contemplating his wishes one dark morning, a shaft of light pierced the clouds, shining down to illuminate a prayer-sword – an answer from the kami.  His salvation.  With righteous fury in his breast, Raku hid in the palace privy awaiting his revenge… he then skewered that foul magistrate from the bottom up.
Now, Raku wanders the countryside by day, a simple peasant with little more than the hat on his head, the sword in his hand and the fire of justice in his heart.  Come nightfall, Raku dons his mask and raids the mansions of corrupt officials, delivering swift and sure righteousness with deadly tekagi-shuko to all those who hold their citizens in thrall.  Redistributing the ill-gotten spoils to the poor and downtrodden, Raku's mission is to ensure no more orphans suffer his same sorrow.
In the brewing Gold Life struggle, Raku sells his blades to the highest bidder – at times donning the crimson robes for the Red Hand Gang.  While both sides try to eliminate this principled agent of vengeance, none can succeed.  And so, Raku ambles the countryside spreading wealth and hope.
•    Red 8-inch Raku Dunnys (Day version & Night version) are Kidrobot exclusives, sold only at Kidrobot stores and kidrobot.com beginning May 26 for $100 each (£79.90 UK; 92.70€ Europe).
•    Limited to 500 pieces per style worldwide.
•    Daylight's cloth-robed Raku comes with a sculpted tail, removable peasant sandals and plastic bamboo hat, and travels with a coiled rope, bedroll, and walking staff in-hand.
•    Night's ninja Raku trades his peasant hat for a wind-whipped mask, comes with a sculpted tail, and adds a blade and tekagi-shuko to his lethal arsenal.
Be warned; Gold Life is coming.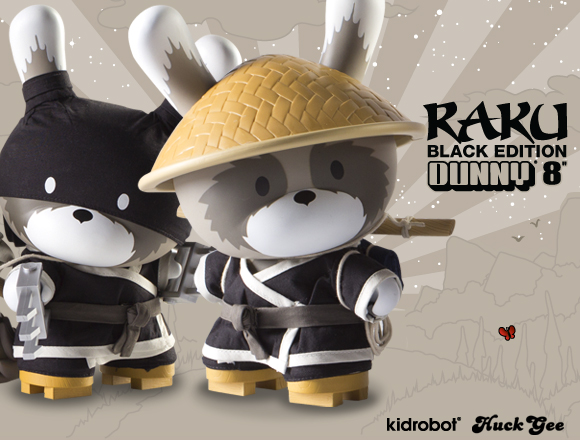 Raku Dunny Black Edition Specialty Store Exclusive
Black 8-inch Raku Dunnys by Huck Gee (Day version & Night version) are available only at specialty retailers beginning May 26 for $100 each (£79.90 UK; 92.70€ Europe).  Limited to 500 pieces per style worldwide.
Available in limited supply at the following retailers:
3Dretro in Meltdown Comics – Los Angeles, CA, USA
Neon Monster – San Francisco, CA USA
Adventures in Kitsch – SINGAPORE
Camiondepompier – Montreal, QC, CANADA
Chindogu Gallery – Oklahoma City, OK, USA
The Discovery Hut – Calgary, AB, CANADA
Domy – Austin, TX, USA
Domy  – Houston, TX, USA
Dragatomi – Sacramento, CA, USA
FOOSH – Edmonton, AB, CANADA
Freak Store – Caracas, VENEZUELA
Graham's – Greenwich, CT, USA
Groupseven – Calgary, AB, CANADA
GUNNZO – San Diego, CA, USA
Headquarter – Mexico City, DF, MEXICO
Headquarter – Vancouver, BC, CANADA
Jinxed – Philadelphia, PA, USA
Popup Gallery – Wellington, NEW ZEALAND
Laced – Brisbane, QLD, AUSTRALIA
Popcultcha SupaStore – Geelong, VIC, AUSTRALIA
Villain – Melbourne, VIC, AUSTRALIA
Mostly Mao – Bangalow, NSW, AUSTRALIA
Missing Link Toys – Portland, OR, USA
LIFT – Royal Oak, MI, USA
Lulubell Toy Bodega – Tucson, AZ, USA
Magic Pony – Toronto, ON, CANADA
MCA Chicago – Chicago, IL, USA
Mixi-Bang! – Los Angeles, CA, USA
Moda3 – Milwaukee, WI, USA
Monster Taipei – Taipei, TAIWAN
Lost Marbles – Ottawa, ON, CANADA
Munky King – Los Angeles, CA, USA
Myplasticheart – New York, NY, USA
Nation Toys – Calgary, AB, CANADA
Newbury Comics Faneuil Hall – Boston, MA, USA
Paradise Toy Land – Taipei, TAIWAN
Plastic Chapel – Denver, CO, USA
Poptopia – Kansas City, MO, USA
Pop Shop – Guadalajara, Jalisco, MEXICO
Posters and Toys – Iowa City, IA, USA
Prototype – Honolulu, HI, USA
Red Hot Robot – Phoenix, AZ, USA
Rivet – Columbus, OH, USA
Rojo Bermelo – San Pedro Garza Garcia, NL, MEXICO
Rotofugi – Chicago, IL, USA
Schmancy – Seattle, WA, USA
SOMOS – Salinas, CA, USA
SUP! Design Store – Yokohama-shi, Kanagawa, JAPAN
Toy Agree – Hakusan-shi, Ishikawa, JAPAN
Tomenosuke-syoten – Takayama-shi, Gifu, JAPAN
Toys Country House – Takamatsu-shi, Kagawa, JAPAN
Kinkirobot Shinsa – Seoul, KOREA
Kinkirobot Hongdae – Seoul, KOREA
Kinkirobot Doota – Seoul, KOREA
TATE'S Comics + Toys + Videos + More – Lauderhill, FL, USA
The Artist's Eye – Smithville, NJ, USA
The Other Culture – Jakarta, INDONESIA
Toitoy – Cape Town, SOUTH AFRICA
TOMODACHI – Rosedale, MN, USA
Toy Tokyo – New York, NY, USA
ToyQube – Flushing, NY, USA
Secret Fresh – Manila, PHILIPPINES
Ultra Pop – Louisville, KY, USA
Yoyamart – New York, NY, USA
Yuu Toys – Shanghai, CHINA
Artifex – Antwerp, BELGIUM
Artoyz – Paris, FRANCE
HighlandToys – Almere, NETHERLANDS
Senor Hernandez – Nijmegen, NETHERLANDS
Toykio – Düsseldorf, GERMANY
Outland Store – Amsterdam, NETHERLANDS
Forbidden Planet Glasgow – Glasgow, Scotland, UK
Forbidden Planet Dublin – Dublin, IRELAND
Forbidden Planet Edinburgh – Edinburgh, Scotland, UK
Forbidden Planet Leeds – Leeds, England, UK
Forbidden Planet Shaftesbury – London, England, UK
Richard Goodall Gallery – Manchester, England, UK
Atom Plastic – Milan, ITALY
Squid Ink – Rome, ITALY
Sixxa – Vienna, AUSTRIA
[nggallery id=258]