Gear heads and toy lovers can rejoice because an epic crossover is upon us. Known in the automotive world for his one-of-a-kind eye-catching creations, Richie B. Caliente will bring his design skills to Kidrobot's iconic MUNNY platforms this year as the first automotive/toy crossover artist of the brand.
With clients ranging from professional athletes to some of music's finest, Rich's canvasses are some of the most elite vehicles in the world. Now that KidRobot has teamed up with Rich, high-end car aficionados can take a piece of their cherished ride into their home or office with a ride-matching Munny. Each piece will be precisely color-matched to a client's vehicle and feature bespoke elements that will personalize each piece.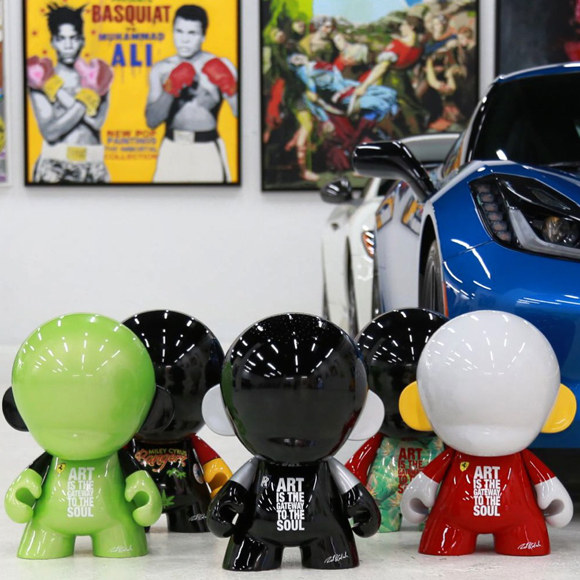 Growing up a major Kid Robot fan, Rich was more than thrilled when the opportunity to work with his favorite brand arose. "The first project I did with Kidrobot was for Art Basel 2013 for a former client's Ferrari and Maserati. Not only did the one-off Munny pieces match the colorways of the cars, but they also featured    the saying, "Art is the Gateway to the Soul" – a quote Rich B. Caliente lives by.
The initial response was nothing but praise for the automotive-inspired masterpieces and their matching Munny pieces. Now Rich and Kidrobot will be offering customized Kid Robot pieces as an added option to all automotive clients as Rich continues to collaborate with Kidrobot on special projects, such as one-of-one vehicles.
Rich B. Caliente has been transforming stock vehicles into one-of-a-kind rolling works of art for more than a decade, with a rebirth of creativity awakening his inner artist a few years ago. Past automotive clients include heavy-hitters in music, business and more, in addition to more numerous editorial pieces and covers. Rich B. Caliente has also consulted/ co-produced episodes of "The DUB Magazine Project" Season 1 and built numerous notable rides like the MMG Ferrari 458 Italia and the Nike Lebron Aventador Roadster  To view more of Rich B. Caliente's work, visit www.richbcaliente.com