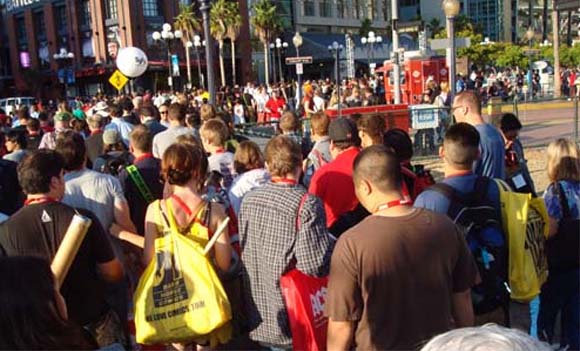 So now you have panel ethics locked down like a boss and you know how to safely score that all important life-and-death exclusive — But wait there is still much to know young padawan. Here are some general tips for everyday survival at SDCC.
If you want to make sure you are in the spot you want to be later for a panel, signing, meeting, etc.., just line up early. There are people camping out to get in even.
The free bags they give away that are ridiculously large are nice, but they also get in the way. Please be considerate of those around you and not smack them with your back. If you just bought something for $400, the last thing you want is for it to be knocked around.
There are shipping facilities in the convention hall to ship items, but they hefty convenience fees added in. Their line is usually fairly long too.  If you do not want to carry your bags around all day, use the handy bag check for a few dollars.
If you are in need of some free snacks and water, check out the con suite located in the adjacent Marriott Hotel. There you can stop and refresh to battle the hordes later.
Shuttles are your friend! If you are staying at a con hotel or even near one, utilize their free shuttles to the convention hall. This will save you some walking time, but be warned on Friday and Saturday traffic is bad in front of the convention you may be sitting 5 feet away for 40 minutes.
Besides the convention, off site events pop up everywhere. Just keep an eye out for fun things all around the area.
They do not allow can attendees to bring rolling carts into the convention hall.  Please leave them at home.
We all love to take pictures, but don't stop in the middle of a very busy aisle to snap 300 pics of the same thing when 1 or 2 will do. This congests everything and really annoys people.
If you need to traverse the exhibitor floor quickly, do not use the exhibitor floor. A simple way is to go outside of the main floor and use the foyer to get thru quickly. You may have to shimmy over cosplayers but the time you will save is golden.
Have fun! But if you see someone dressed as a Honey Badger, please stay away for your own safety!