Shiffa's Willy the Wolf is now available in select stores and on Kidrobot.com! Read on for an exclusive Q&A with Shiffa!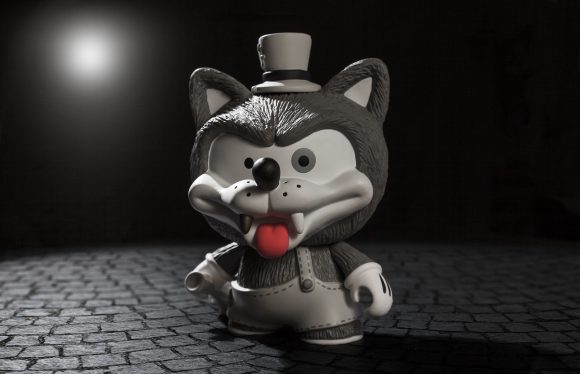 What made you want to collaborate with Kidrobot?
3 years ago, I started in the world of the "Custom". I think that when you devote yourself to this, one of the principal goals is that Kidrobot produces one of your pieces. Collaborating with Kidrobot is something that I never thought I would get to do. I am a fan of many artists that have worked with Kidrobot and now I am part of that.
What's the inspiration behind your pieces?
Music has been a very significant link to my visual influences and graphic arts. I am also inspired by my state of mind, cartoons, movies, people around me, design books, video games, etc.
What was your artistic process like while working on this piece?
"Willy the Wolf" was born of a dream that woke me up on a Friday at 3 a.m. I do not remember the dream very well. I just remember "Willy" reaching the hens and everything in a gray scene. I simply turned the idea into a physical piece. There is nothing mysterious or conceptual in this piece.
Who do you consider your creative inspiration?
It would be a very long list:
Mike Patton is the principal influence that I have in everything that I do. Storm Thorgerson, Jim Davis, Tim Tsui, Max Fleischer, Quentin Tarantino, Huck Gee, Derek Hess, McBess, Alfred Hitchcock, Derek Riggs, Paul Romano, Jamie Hewlett, Rob Zombie, Andre Rodrigues, Marq Spusta, Yomico Moreno, Bob Tyrrell, Mark Ryden, etc, etc, etc.
What is a talent or skill you have the would surprise most people?
I wish you saw my ability to eat tacos and drink beer.