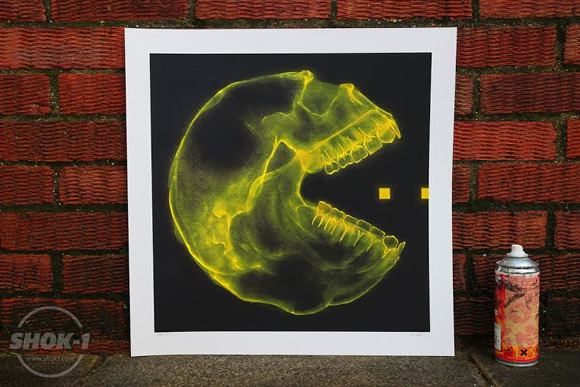 Shok-1 just dropped one jaw opening print in his online shop that tickles our nostalgia bone and our love of art!
Available right now here, "The Consumer" is simply awesome!
A 30 year veteran in the street art movement and hardcore video gamer since the early 80's, SHOK-1 painted the image inspired by the classic video game character to create a witty metaphor on our modern consumer culture.

Something we are about to go look up, the original artwork was spraypainted on a wall in Germany earlier this year using  freehand techniques pioneered by the artist.  No stencils or tape were used to achieve the intricate translucent effects. 'The Consumer' print edition is strictly limited to 160 prints which are signed, numbered, and embossed by SHOK-1 himself.
Time to look up that wall in Germany!