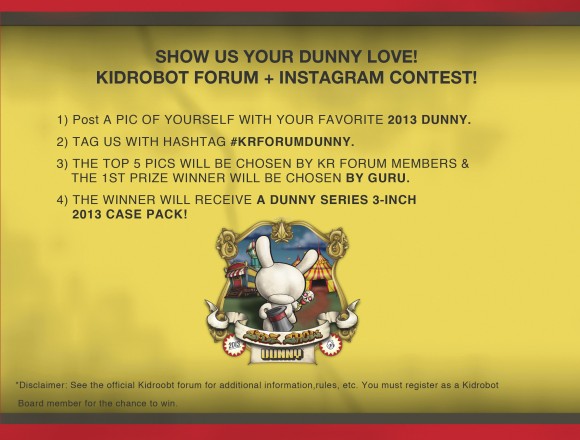 Show Your Kidrobot DUNNY Love for the Chance to WIN a Dunny Series 2013 Case Pack!
It's simple to enter, follow the steps listed below. Click here to get to the forum contest.
This contest runs now through Thursday, October 24, 2013
1. You must be a registered, active KR Forum Board Member to participate!
2. Post a creative picture of yourself with your favorite Dunny from this year, 2013. We all love selfies but we are looking for something a little more; after all we're giving away a case of Dunny Series 2013!
3. Post your picture to Instagram and HASHTAG us #KRFORUMDUNNY. NOTE: Only one entry per Instagram account.
4. Votes for the top 5 pictures will be made on the boards within the original, and then edited Instagram contest thread.
5. Forum moderator Kidrobot GURU will announce the contest winner on Friday, October, 25, 2013.
GOOD LUCK TO ALL!