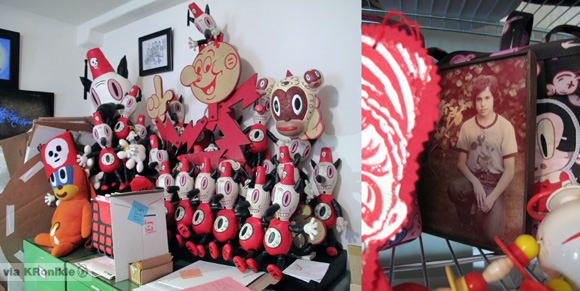 Welcome once again to Studio Snaps. In this edition, I was allowed safe passage into the mystical and sometimes ominous world of  Gary Baseman, just days before the release of his Toby's Secret Society mini series.
Gary was nice enough to take a few moments from a busy schedule and show me around his workspace adorned with his collections and varying stages of work. Gary is a collector much like the rest of us and they consist of vintage advertising, artwork by friends, Emmy's, etc… You know the usual. I was also given the opportunity to glance through flat files and a few of his many sketchbooks (50+) which chronicle his travels, his work and his life. Traces of his life are detailed throughout his work even down to his cat making an appearance in the new mini series. The name Toby is deeply rooted in Gary's past and was the name of a girl he had a crush on when he was five years old. A current project with band, Nightmare the Cat, has kept Gary busy with album artwork and traveling on occasion for events which entail live painting + live performance. Shows in the upcoming year will have Gary and Toby collecting stamps in their passports from such places as Italy and Taiwan.  But you don't have to travel too far to see Gary, he'll be at Kidrobot Los Angeles this Thursday, Ocotober 20 from 6-8pm for the release and signing of Toby's Secret Society. Next stop after LA, Gary will be at Rotofugi in Chicago on Ocotober 28 from 7-10pm for another signing to celebrate this incredible new mini series.
Toby's Secret Society will release this Thursday at all Kidrobot stores and kidrobot.com. Can you be trusted.