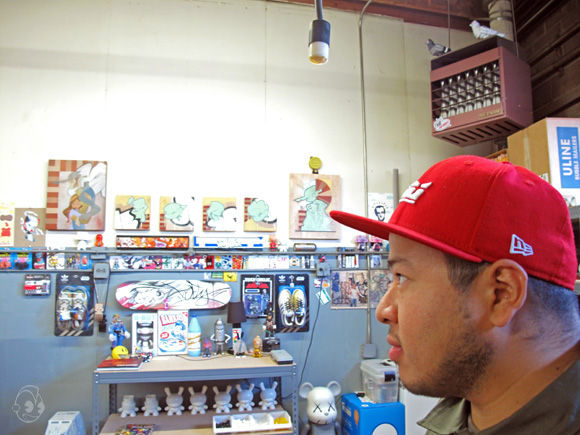 I caught up with KaNO in his Burbank studio space earlier this week. We talked about upcoming projects, family and collecting. Tomorrow night, KaNO will be appearing at the Kidrobot Los Angeles with Sket One for the exciting new Fatcap Series 3 Release and Trading Party.
I met KaNO a while back when he first arrived to the Golden State from New York. He's occasionally dropped by KRLA over the past two years, but we've been seeing more of him around the store recently and other places like SDCC, NYCC, and Designer Con hanging out with fellow Ya Heard Show! cohorts Sket, Mr. Shane Jessup and Ritzy Periwinkle. He has a day job like the rest of us, but unlike the rest of us he works for the WB, among various other projects which are too hush hush to disclose at this time. KaNO has recently teamed with Kidrobot to create a spent version of MAD's Bent World Spray Cans plus his new PRIORITY design for Fatcap Series 3.  Also, if you pay close attention to the photos in this article, you may spot a new color way of a figure that has yet to be released. Like the rest of us KaNO was bitten by the collecting bug and showcases some of his most prized pieces around his workspace. Some are from friends, some are from legends, all of which are incredibly inspiring.
Look for more great things to come from KaNO by following him on Twitter or Facebook and if you're in the LA area this Thursday, swing by our Melrose location between 6-8pm to meet this multi-talented artist and say what's up.