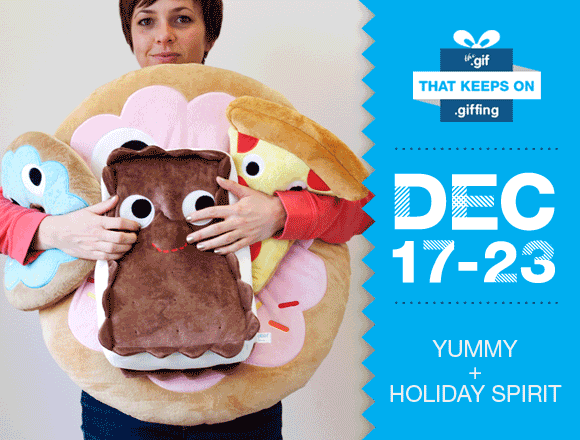 The Seasonal Shenanigans
continue this December at Kidrobot with our fun inducing, eye popping, social spreading holiday contest —
The .Gif That Keeps .Giffing!
What are the best presents to get for the holidays? Yeah, other than the new iPhone, That's right TOYS! And what fun are toys if you can't play with them? For this year's Seasonal Shenanigans, Kidrobot is challenging you to bust out your toys, grab your digital picture capturing device, or iPhone, and create a smile inflicting, color popping, prize winning photo or .gif animation.
Here's the deal — there will be 3 contests. Each week will have a different theme and a certain type of toy or artist you must use in your entry. You can enter as many times as you want. All submissions must be emailed to promo@kidrobot.com. Deadline each week will end in that Sunday. The winner will be chosen by Kidrobot. Here are the weekly themes, toys and artists.
Week 1:
Dec. 3-9 – MUNNYWORLD + Snow
Prize: Mega MUNNY, two 7-inch figures of choice, 3 Minis of choice, and 4 Micro blind and 5 MW zipper pulls.
Winner: Carolyn Fisk of British Columbia! View her animation here.
Week 2:
Dec. 10-16 – Apparel + Presents
Prize: Peak-a-bot Messenger Bag and a Holiday Smorkin Labbit Foldover Pom Beanie
Winner: Walt Srocki of PA! View his animation here.
NOW: Week 3:
Dec. 17-23 – YUMMY + Holiday Spirit
Prize: Bakers Dozen (1 Large plush, 3 med. plush, 4 small plush, 3 keychains and 2 key caps.)
Winner: Ash Young! View her animation here.
Never made an animated .gif before? It's easy. Check out this video on YouTube and this website that will make them for you.  You can also download tons of free apps to create them on your smart devices.
So get in the holiday spirit with Kidrobot and let the Seasonal Shenanigans begin. It's week 3, so show us your YUMMY + Holiday Spirit themed animations.