Whats hotter than a smokin' burger patty on a bun? The Kidrobot x Bob's Burgers Capsule of fun and delicious items and it just got better! Here to talk a little bit more about the new Kidrobot x Bob's Burgers Kuchi Kopi Medium Art Figure is our good friend Chris Holt aka The Toy Viking! Let's see what he has to say bout this magical GID figure…
 Kidrobot continues the vinyl onslaught of New Jersey's favorite cartoon greasy spoon, Bob's Burgers, this time with the mysterious Kuchi Kopi.  He's appeared in many forms on the show, even invading a day dream here and there, but his most pivotal role may just be Louise's bathroom companion.  While she's doing her business he is there to provide the  needed moral support we all could use every now and then.  Particularly after one of those all you can eat buffet situations, where the price you pay far exceeds what's stated on the menu.  You can't put a dollar amount on emotional scarring.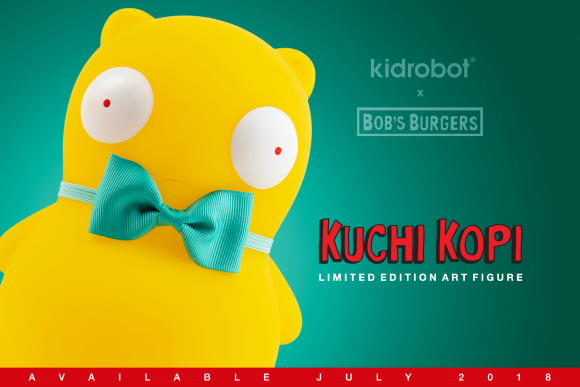 This medium figure stands seven inches tall and is a must for fans of the hit show.  He is available right now by visiting www.kidrobot.com.