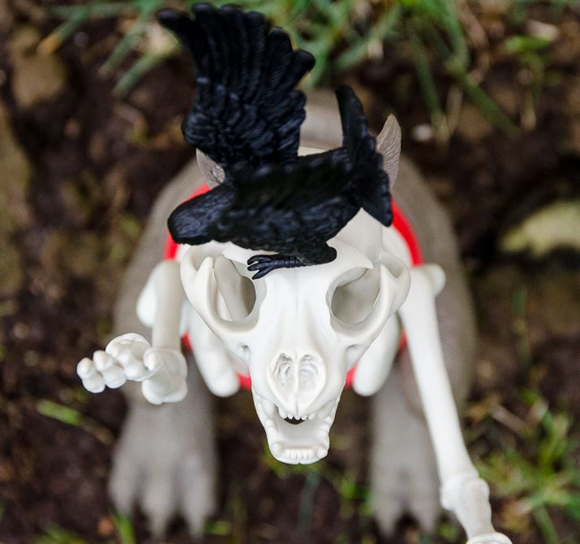 Our buddies over at Vinylpulse got the exclusive details to the upcoming Kidrobot x Aesop Rock release "Whiskers"!
From VP:
San Francisco-based hip hop musician Aesop Rock's favorite feline is reborn once again as  'Whiskers The Undead', a new 10.5" original vinyl art toy from Kidrobot.   Originally introduced to the world in a series of four promo videos for the aptly named  Skelethon album (2012),  the undead cat  enters the toy realm with a striking, anatomically realistic design brought to life in collaborative fashion by artist  Galen McKamy and  Aesop Rock who described the process.
"I was super excited to get the opportunity to actualize an idea of mine in toy format with Kid Robot, and immediately thought of Whiskers.  I went back and forth with the ever-radical Galen McKamy about the character and design, and he was able to chip this sassy muffugah out like a vinyl David statue." said Aesop Rock. "I was especially happy we could get the crow in there because what's a realm-crossing zombie cat have in life if not to swat a god damn omen of death from the sky?  Anyway, I'm psyched – I hope you are too." – Aesop Rock
After a few choice teasers from the 'bot, we had the pleasure of spending some quality time with our companion from the other side and snapped a few shots to bring you this exclusive look. Enjoy getting acquainted with Whiskers, your new feline friend.
Caught in mid-action, the undead cat is poised to snare a crow perched tantalizingly on his skeletal head, a scene which unfolds on the gorgeous gold-foil stamped box featuring three original illustrations by Coro.  The figure makes strong use of injected PVC to realize Whisker's intricate skeleton including a hyper-detailed head with sculpted nasal passages and a torso with individual ribs which give way to organs (heart, intestines) and finally the cat's fur hind quarter – all of which appear to be rotocast.   Visually the detailed skeleton catches your eye and draws you in while the in-tact lower quarter offers a nice contrast and a cue that you're in the eerie presence of a twisted, zombified, undead cat.
Whiskers the Undead drops on Thursday December 11th 2014 for $250 from Kidrobot.com, Kidrobot SF, Kidrobot Las Vegas, select retailers and Aesop's official store, Fifth Element (online and in-store).
Head over to there exclusive post for more images!