MP Gautheron is a French artist based in Lyon, France. She has always been immersed in an artistic environment, as her mother is an art professor and painter. Since her childhood, she has navigated between her mother's classes and art schools. As a painter and sculptor, her graphic universe is a mix of skulls, animals, nature, and patterns.
After seeing a skull filled with colorful pattern, a French toy collector asked her to paint a designer toy. This was the beginning of her venture into the world of customizing art toys.
Her toy customizations are filled with colorful hand-painted designs and some even react to black light. Recently she has begun adding sculpts to some of the toys, bringing a new dimension to her customs. Today she juggles between her paintings exhibitions and her toy customizations.

Kidrobot: Because this is women's history month, we'd like to begin by asking about your favorite female artists. Who are they and how have they influenced you?
MP: When asked which artist inspires me, Frida Kahlo comes to mind immediately, both for her life journey and her artistic career. She was a committed woman who tackled taboo subjects for her time, and she was inspiring and modern. And I think of my mother who is also an artist and who has influenced me greatly. I grew up in her workshops and on her lap, watching her paint. She had to manage her 5 children and her profession, and today I am aware of the work that must have been.
KR: At what point in your life did you begin to be aware of the difference between how men's art is memorialized vs women's art? In what ways do you see that changing?
MP: I began to realize this at art school, where the majority of my teachers were men. The artists I discovered were often male artists. Finally, the few female artists I studied were committed artists who fought to convey strong and feminist messages.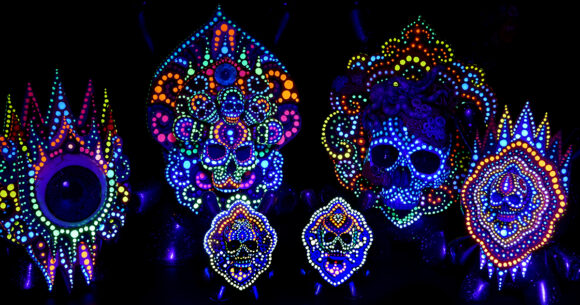 "I try to show [my audience] that death can be perceived as something beautiful."

MP Gautheron
KR: How would you describe the themes in your work? Have your themes changed over the years?
MP: In my work, I emphasize the subject of death. I try to give it beauty through my paintings and sculptures. In France, as in other countries, death is a taboo subject that causes people anxiety. Due to superstition or fear, we avoid talking about it. Thus, I try to convey an indirect message through color and elements symbolizing life, while addressing these "morbid" and "sad" subjects. This is how I try to provoke emotions in my audience and show them that death can be perceived as something beautiful. But I also emphasize subjects around femininity through my self-portraits as well as my compositions based on patterns and vegetation. My themes have evolved with my experiences and everything that is happening in today's society. This is inevitable because I create based on my emotions.
KR: There is a lot of turmoil in the world today. To you, what is the importance of art in times of difficulty?
MP: Art is the most important means of expression for me, but it is also the simplest and therefore the most primitive we know. It allows ideas, messages, and emotions to be easily conveyed to all ages. For me, art is therapy. It allows you to calm your mind, meditate, and feel good. It is essential and inseparable from our existence.
KR: Does art always have to be serious or is there a place for playfulness and humor even in darker times?
MP: Art is there to do good, but also to make people laugh and to convey dark messages. That's what's wonderful about this expression, there are no limits.
KR: What are some of your favorite pieces that you have created and why?
MP: I have a painting that I created several years ago, which is a form of self-portrait that exposes me and shows a dark period of my life. It is titled "Le mèpris" (or Contempt in english) and I wanted to depict a period in my life where I had health problems and where the gaze of others was difficult to manage, both in my close circle and in the hospital environment. Few people showed me true consideration, and I felt like an oddity rather than a human being.
KR: What has been your favorite piece created for Kidrobot?
MP: I have created two large Dunny figures on similar themes, which are two protective deities of nature. I am very close to nature and animals, and for me they are our equals, which is why it is a recurring theme in my work.