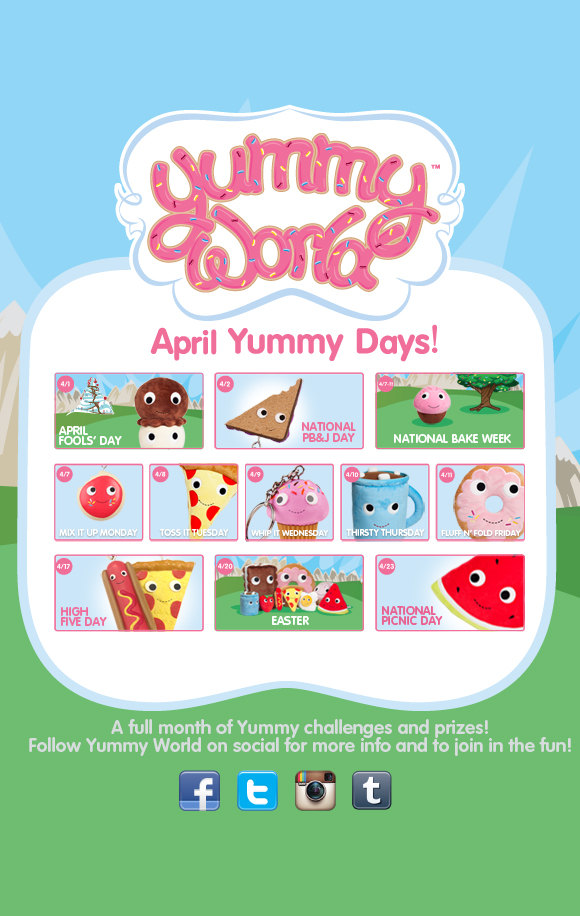 Every Day's a Holiday with Yummy!
Follow Yummy's new Social Media pages the entire month of April to celebrate, participate and win! From National Bake Week to Easter, to Picnic Day and more, there are plenty of scrumptious ways to show us your Yummy! Every Yummy "holiday" you can celebrate in sprinkle style! And be sure to start brain storming your Yummy Bake Week ideas where you could win big! Follow us daily on social to find out all the holiday info!
Join Yummy, Sandy, Sassy, Sprinkles, Franky, Melony, Sunny, Coco, Cheezy Pie, and the Double Scoop Twins for the yummiest of Yummy Adventures!
Show us YOUR Yummy and tag #YummyWorld!
Facebook: https://www.facebook.com/YummyWorld
Instagram: http://instagram.com/yummyworld_#
Twitter: https://twitter.com/YummyWorld_
Pinterest: http://www.pinterest.com/yummyworld/