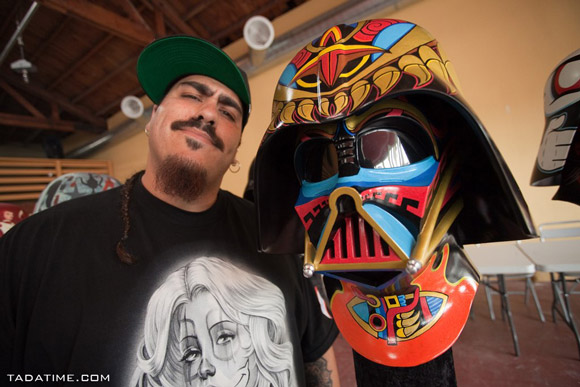 Kidrobot's benevolent dictator, Paul Budnitz has a nice little conversation with Dunny Series 2010 artist, host of Vinyl Additction and all around nice guy, Jesse Hernandez.
PB: Hey, Jesse.  How are things?
JH: Everything's good – just grinding away… different projects and all.
PB: Dunny Series 2010 just dropped today and you have an amazing design in this series. Tell me about your Dunny.
JH: The Dunny is called Bat God, or Dios Murcielago. This design represents the bat as the "Messenger of the Underworld," or "Mictlan" to the Aztecs.  It's based on a custom I made back in 2008. (Actually the design was done before the custom), but toy production takes a while, haha.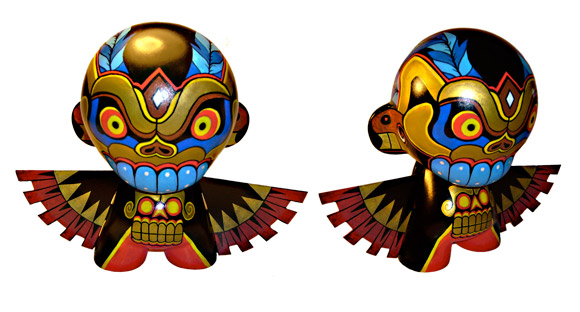 PB: Yeah, no sh*t!
JH: Hahaha.
PB: What inspired you to make Dios Mucielago?
JH: I actually saw a Mayan sculpture that prompted me to learn more of the bat's relation and reverence in the Aztec culture. I was really excited about creating the stylized wings on that character.
PB: It feels like you're really connected to that culture.
JH: A strong connection for sure – it's in the blood!
PB: Yeah, they are beautiful.  What other projects are you working on now?
JH: Vinyl Addiction, The Nutshack, art directing stuff for the channel, and then a large installment for the Oakland Museum in October, and some extra cool projects for Kidrobot. I have a new figure coming out with Kuso Vinyl called Mictlan too, which means "underworld" in Nahuatl.  The actual character is called Mictlantecuhtli, the God of Death, but I thought that might be hard for other people to pronounce.
PB: Sounds so f*cking awesome! I like the long name.
I was saying to some people over here, Jesse is one of the busiest artists I know!
JH: Hahaha, thanks.  I think I need to clone myself a couple times.
PB: Cloning you would be scary. :)
I really love The Ozomahtli toy that you gave me.  Can you tell me about him – what he's about?
JH: So Ozomahtli is the Nahautl (Aztec) word for monkey; I was tryin' to make the "King of All Monkeys" with this piece. He's based on a Howler monkey too, which is where the expression on his face comes from.
PB: He looks like he really cuts right through to the heart of things.
JH: Definitely. Ozomahtli represents one of the day signs in the Aztec calendar. He's also wearing a dragon headdress representing Quetzalcoatl.
PB: It's amazing to see you applying creating characters in your style.  Your style feels very street graffiti and reminds me of what I have seen on walls where I grew up in California.  At the same time, there is something traditional about your work.   Do you identify yourself as Mexican, or Mexican American, or American?
JH: Chicano/Native American.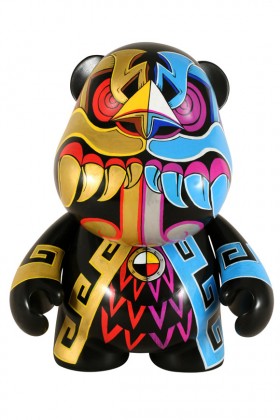 PB: Where did you grow up?
JH: The Bay Area. I went to school at SFAI, the San Francisco Art institute.
Not sure how far back you wanna go! Hahaha.
PB: That's cool, I'm from Berkeley. It was kind of insane.
JH: Dope! Great place.
PB: A lot of really angry hippies.
Hahaha. Good food though!
JH: True.
PB: Do you feel like you're becoming a better artist as time passes?
JH: Definitely, as an artist you must always keep learning – your eye develops over time. Things I drew when I was younger (that I thought were good) look terrible to me now.
PB: What have you learned from the first toys you've made to the most recent ones? Maybe you didn't learn anything? ;)
JH: As far as designing, you have to take into account how the toys will be made and what printing applications used. Whenever a company works on one of my pieces, it's a test for them… because I push the envelope as much as I can on my end to make something timeless. China probably hates me for that. But in the end, it gives them something to be proud of also, hahaha.
Another funny part to me is… I have a distinct color palette of my own that just happened over time. I hadn't realized it myself – other people pointed it out to me.
PB: Yeah, well it's important as artists that we hold the line so magic can be made.  You have to push for that magic to happen, and that can often be a struggle with a factory.
JH: Very true!
Forgot to mention this earlier, I believe I have a couple other top secret projects in the works with a company called Kidrobot ;)
PB: Those punks?  They're total poseurs. F*cking capitalists.
JH: LMAO
PB: Actually I really want you to do something for Kidrobot Black… if you're ever up for it.
JH: Me too – anytime. I don't know if you know, but I have three full cases of all black/monotone toys.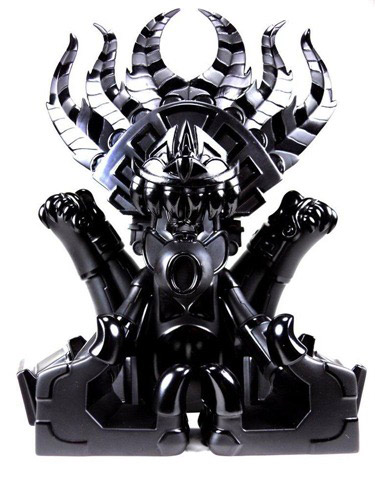 PB: RAD.
As I mentioned, you really are one of the hardest working artists I know. You make toys, you make art, you have a TV show. What drives you?
JH: I think the key is to always work on things that are interesting to you, so it doesn't feel like work. The only thing holding me back is time. I wish days were 48 hours long so I could get everything in! The TV show came out of working on the cartoon. I pitched the idea, because I saw that no one was doing a show like that, and had all the contacts to make it happen. We shot the pilot and everyone was into it. Then it just happened from there. We had been working on the show for a long time before anyone outside saw it. I'm glad it was well received!
PB: It's really great.
JH: I'm also a perfectionist, which is good for a lot of things, but I'm probably the hardest critic of my own work. I drink a lot of caffeine, for real. I need an energy drink or a coffee sponsor!
PB: So, what do you do when the company or client you are working with just doesn't get it, or gets in the way.  Like um… Kidrobot.  Just kidding, we're perfect.  But how do you handle it?
JH: Hahaha. When doing professional work you get used to clients changing their minds; it comes with the territory.
Not you guys, what? Pros!
PB: Thanks for everything. We'll rearrange the interview, change what you say, and turn you into a right-wing fascist – I hope that's OK.
JH: DOH, Communist will work.
PB: I'll add a quote about how you really love Holly Hobby toys, and that they inspire all your work. All good?
JH: SHeeit… Dora the Explorer bro, get it right.
Check out more of Jesse's work on his website ImmortalStudios.net.