Sekure D's "Codename Unknown" Dunny is releasing this Friday, May 13th in stores & on Kidrobot.com! "Codename Unknown" is the debut Dunny from Kidrobot's new 5-inch Dunny category. Codename Unknown stands 5″ tall and features the vibrant and colorful artwork of Sekure D!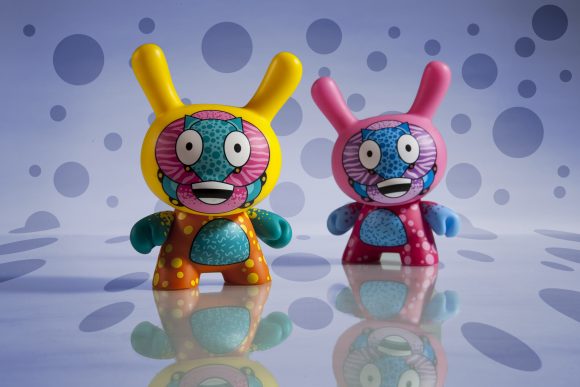 We are excited to share an exclusive Q&A with Sekure D! Learn about his "Codename Unknown" Dunny and more!
What made you want to collaborate with Kidrobot?
I have been a fan of Kidrobot and their products for a long time. When I was getting more and more into vinyl toys they just kept working with artists I liked and that's what really got me hooked. The Mascot is also one of my favorite pieces of vinyl ever. I have all of them now including all the hard ones to find like Shinjuku which makes me pretty happy.
What's the inspiration behind your pieces?
Ever since I started customizing vinyl toys the designs have reflected my overall artistic style. I tend to focus on bold colorways, clean linework and detailed patterns. Combining these things into a character are what I love most about designing toys. For this one I ventured out of my signature color schemes to designing something that would really pop with a fun lighthearted personality.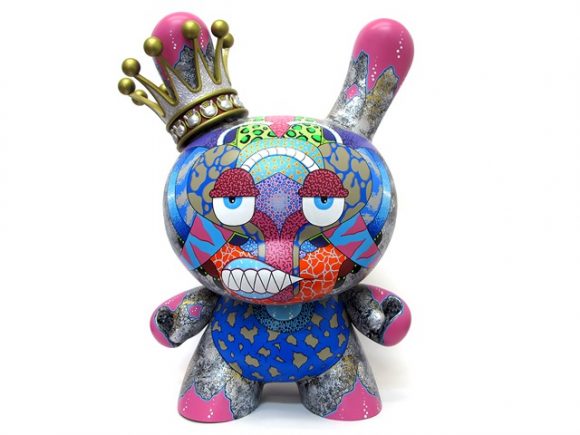 What was your artistic process like while working on this piece?
The first decision was to create a character that was happy or gave the appearance of being cheery which other than colorway was maybe my only conscious decision in the design process. I tend to freestyle the face panel and then work from there making sure all the details are right and the design is complete from top to bottom.
How does working on a custom piece differ from working on a production piece?
It is actually very different, there is almost no restriction when working on a custom, but then again you only have to make one. The design on this toy also reflects a conscious decision to design a piece that I knew could be produced.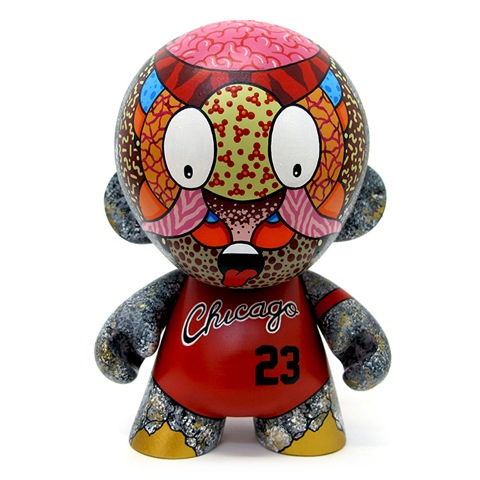 How does working on a custom toy differ from a custom pair of sneakers?
It is enormously different, the main piece of the puzzle is that with sneakers, you don't really have to consider personality. To me a sneaker is a canvas, I use the panels to contrast prints and patterns that tie the whole shoe together and tell a story, with a toy you have to also consider conveying emotion and giving it personality. From a technical standpoint there is also differences however I use all the same equipment, from paint to brushes, when I paint either a sneaker or a toy.
How did you get into designing toys and sneakers?
I have been collecting shoes since I was a teenager, it just evolved from wanting to have sneakers that nobody else did. From that I was able to build a career in customizing which at the time I didnt even think was possible. The vinyl toys came years later, I honestly didnt realise there was much of a customizing scene for vinyl but when I finally worked it out I couldn't resist.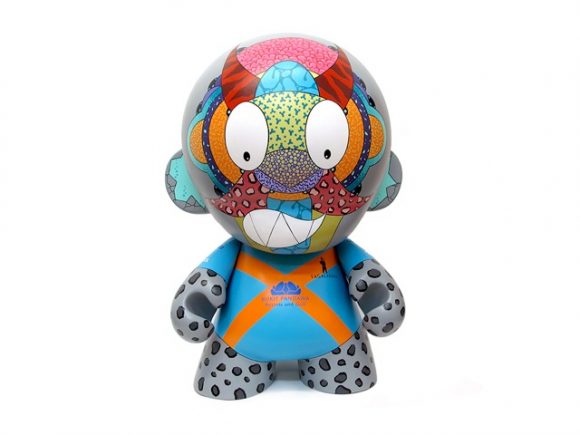 You are the first artist to ever create a 5" Dunny. How does it feel to be the inaugural artist in a new size of the Dunny platform?
Honestly, it means a lot to me and it is really exciting. I can't wait for it to drop and to start seeing it in peoples collections, I really hope this relationship continues and I get to work with KR on some more pieces in the future.
Who do you consider your creative inspiration?
Wow, so many things really, graffiti, comic books, just really comes down to what happen to be my interests. I never really sketched as a kid and never did any kind of art classes but I loved graffiti and that is what made me start to draw. Bold, bright and colorful artwork is what has always appealed to me and what is what I try ti bring to my artwork now.
When I am working, I am typically watching a movie that I love, such as Donnie Darko or Big Trouble in Little China with some Mozart Requiem in D Minor on in the background. From that point on its just sketching and seeing what happens.
What is a talent or skill you have the would surprise most people?
I am pretty good at Fantasy Basketball, haha. I actually don't think I have a great answer for this question, I can probably recite the entire first movie from start to finish with no help, lets go with that.