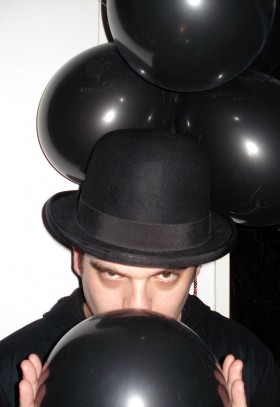 Patricio Oliver, Cucos Minis artist and graphic design master of the macabre, talks about the inhabitants of the dark recesses of his brain, his homeland of Argentina and Japanese horror stories in this exclusive interview for the KRonikle!
KRonikle: Who are the Cucos characters?
Patricio Oliver: The Cucos are troublemakers. The Cucos Victorian House is near a village where other strange and unique creatures live, but due to their questionable and extremely insane behavior, these children were sent to the Cucos House as a last resort to rehabilitate their evil ways. The Cursed Twins run the place, and instead of helping the Cucos find the correct path, they manipulate them into doing even more terrible things in order to fulfill their sinister secret agenda.
The Cursed Twins are strange siblings with powerful cruel minds. They are masters of the dark arts and mentalism, with high and mighty attitudes.

Hang Boy is the son of an executioner, obsessed with guillotines and gallows. Don't let this friendly zipper smile fool you, he only wants your head!
Benedictin Nosferatu was born a vampire and abandoned as a newborn at the gates of a temple where he was raised by gentle monks. The Cursed Twins found him years later when they heard tales of a solitary young monk with terrifying nocturnal habits.
Serial Killer Infant is a silent disturbing young serial killer who loves to cause panic in his victims with a gas mask and sheep shears.

Alvine Cube Boy is a poor gentle lad who was artificially created by an alchemist who wanted a servant with super strength. He has poor understanding of what is right or wrong, making him especially susceptible to manipulation by others.
Teddy David is an undead boy who collects human victims just like he used to collect teddy bears before he was horribly murdered.
Boy Scout Ghost, an angry young specter, will not rest until he finds who was responsible for his cruel death.
KidGrim Reaper is a cold-blooded reaper in training…and he's an excellent student.

Deranged Country Kid is a brutal mindless killer with inhuman strength and infant emotions.

Sammy ScareCrow is a cursed scarecrow with terrifying eyes of deep unescapable oblivion.
Oni Yoji is a cunning trickster with bizarre sense of humor and demonic intentions.
Mauro Trident, the young incubus, doesn't want to be evil, but his deadly poisonous cyanide touch makes living a good life with humans a bit of a struggle.
Yurei is a mysterious anima from the snow peaks with hollow eyes and ice-cold breath and heart.
The Cucos Characters
[nggallery id=61]
KR: How did you come up with them? What's your inspiration?
PO: I find my inspiration in classic horror movies, German expressionist films, Italian horror, victorian literature, kaidan (Asian folk horror stories), myths, and legends.
KR: What was the most challenging part of creating this toy?
PO: The Cucos as characters were created in 2006. Back then, I had no idea they would end up being vinyl figures. Some of them didn't even had names or origin stories.
When I was asked to create the turnarounds for each character, I had to picture them in my mind as three-dimensional creatures. In my original artwork, some of the characters visually feel very, very flat. The Boy Scout Ghost was a particular challenging case. Some of his facial features were really hard to translate into a 3D form. Others, like Yurei, seemed to be far too complex, but the process of transforming this character into a 3D toy ended up being really smooth.
The Production Process – Concept to Toy
[nggallery id=73]
KR: What was the best part?
PO: EVERYTHING! But I have to admit that when the the first clay samples arrived in my inbox, I went bonkers! It was an amazing experience! The transition was so bizarre. I couldn't believe how detailed they looked and how much the original appearance was respected. It was incredible how much the characters changed but still were the same. It looked as if the Cucos were actually real characters from a movie.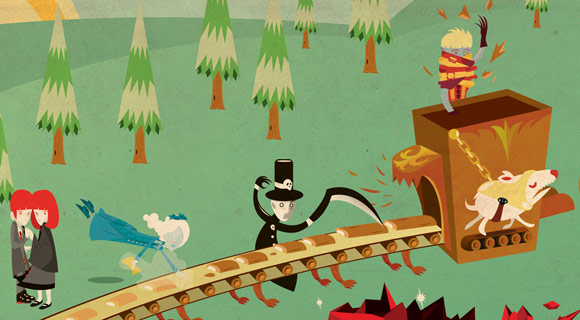 KR: You are from Argentina. What kind of impact does that have on your work?
PO: In terms of vinyl toys,  Argentina is in the stone age. We don't have a market for these kinds of toys; even commercial toys and action figures are hard to find nowadays. Only a few designers are lucky enough to be part of a project like this. It's very rare, and it calls lots of attention from collectors and colleagues.
As a toy collector myself, I feel this project started not as an adult, but when I was a child watching my first horror movie. Designing vinyl toys is more about translating my two-dimensional creations into physical form.
Many people in Argentina, and not only from the artistic or design world, find it amazing that some of us are collaborating with foreign toy makers, like Kidrobot, and creating toys based on our own characters and imaginary worlds. It's great to show my characters and work to other colleagues all over the world.
Other Work by Patricio Oliver
[nggallery id=74]
KR: What do you do when you're not making art?
PO: Plenty of things! I love movies, I'm a film buff! I adore going to the cinema or watching them at home! I'm also an action figure collector and comic book geek!
But I also have a very active social life. I have many artist and designer friends, so when we are not having dinner or going to a concert, there's a fashion show or an opening at a gallery or a store to go to. It's great to see how my friends and loved ones do something that they are passionate about.
I'm also a teacher at Buenos Aires University. I really treasure this aspect of my life. The fact that I can be even a tiny part of the education of a young designer is really special to me. I also enjoy traveling whenever I can. Be it for work or vacation, I'm always willing to take my luggage for a ride!