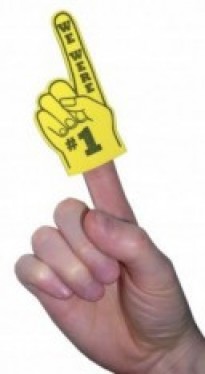 Dunny Series 2010 is on its way and Kidrobot is building up the excitement for the explosive launch date on August 19. Our awesome advent calendar will reveal a photo of a new design with info about the artist and his inspiration for their Dunny, a new contest everyday for a chance to win some really cool prizes and a map with all the launch parties happening around the world at participating retailers.
For Day 8's Daily Dunny contest, we challenged people to take a photo with a number one style foam hand like Tizieu's new design. Over the weekend people submitted their photos with a foam hand. Some were valid, some were improvised and didn't qualify but either way it was fun for the whole family. Go team!
Congratulations to Jackson M. for winning the drawing from all correct photo submissions. You are the lucky winner of 2 prints by Huck Gee.
[nggallery id=192]