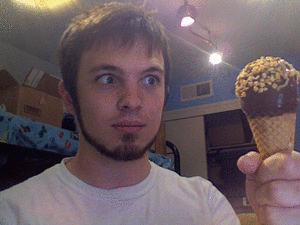 Time is ticking down to Dunny Series 2010 and the contests just get wackier. Day 4's Daily Dunny challenge was inspired by Esther Kim's I Scream For Ice Cream Dunny. The deal was to take a real ice cream cone and put it upside down on your head in order to enter the drawing to win a Dunny Series 4 Golden Ticket. Hilarity ensues!
Congratulations to Giuseppe V. You won the drawing from all correct submissions! Thank you to everyone for playing along. Hopefully it was as fun for you as it was for us viewers.
Stay tuned because everyday until August 19, Kidrobot will reveal a new photo of one design from DS 2010 along with a contest to win super cool things.
[nggallery id=190]