Submitted by J.P. Dorigo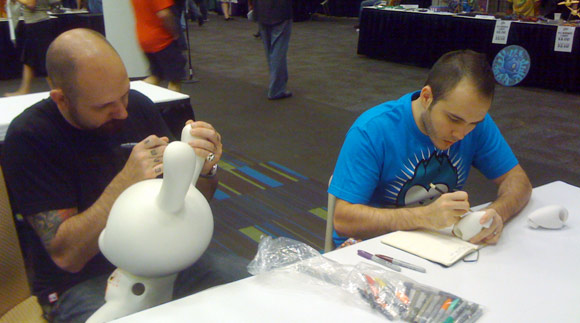 Are you like me? Do you start looking for a second job every time Kidrobot releases a new Dunny series? Do you find yourself in the corner of the room drenched in sweat and shaking from withdrawals, hoping for your dealer to show up and say something reassuring like, "It's going to be okay! I've got something to take the edge off! And the Huck Gee is only 1/50 this time!" I'm a nerd. I always have been. I've been reading comics since the third grade and I've been buying toys for even longer. When I was introduced to Dunnys a few years back I knew immediately that I was never going to be able save any money ever again. This past weekend was the pinnacle of my Dunny-hunting career.
On Labor Day weekend Kidrobot descended upon the city of Atlanta to bring us Dunny Fest; an invention cooked up by their mad scientists to ensure I wouldn't be able to buy groceries for weeks. Dunny Fest, which took place at Dragon*Con, centered around the pre-release of the Dunny Series 2009. To make everything that much more exciting there were a handful of artists on-hand that were ready and willing to sign and sketch our goods. If opening a blind box makes your underpants moist, imagine shaking hands with the person who designed the stuff inside it.
My wife and I waited in a line that seemed to go on for miles, but when we reached its end there were no complaints. We stepped inside the hall and it was complete mayhem. At the door we purchased the 2009 series and along the wall was a table with artists doing signings. I was also surprised to see that I won a raffle for a blank Dunny poster. We bought our boxes and plopped down at the closest table to dive in.
It was a flash of cardboard and foil wrappers. I was giddy with delight. A woman was taking photos of our boxes, so I asked if she was an artist she introduced herself as none other than the Toy Baroness. I told her how excited we were to be there and we chatted for a bit, and then it was off to meet the artist. Blind boxes piled up, Dunnys were signed, and Munnys were sketched on.
The next day it was almost difficult explaining to others how awesome it was. Little did we know that we had barely scratched the surface of our Kidrobotastic weekend. Sunday morning came and I teamed up with Patrick, a dude I met on the Kidrobot message board. While there was still an impressive number of sweaty fans in tight spandex and corsets at the con, they were a bit more sluggish than they were on the previous days.
We hit the artist alley and hovered around some of the artists' booths waiting to see what was in store. I got Kathie Olivas to sketch on a Munny for me and Brandt Peters and Tara McPherson where kind enough to sketch on my Dunny poster. Nothing could top this. Then suddenly a blank 20-inch Dunny was unveiled. Slowly more Kidrobot artists began to appear in the hall. Huck Gee strolled in with The Baroness and Carlos East of The Beast Brothers. Later they were joined by Sket One. In a matter of minutes, I had front row seats to this enormous Dunny being decorated by some of the biggest names in vinyl art. I stood there, mouth gaping in amazement, and snapped photos at every stroke of a Sharpie.
It was starting to get a bit late, so we said our goodbyes and vowed to see them at Dragon*Con 2010. Before we left the Baroness said, "Oh! I have to give you guys something," and she pulled a black and red 'Baroness' button from her bag for each of us. I looked at the button and said, "Man, it's like nerd Christmas!" I instantly regretted saying it but I was relieved when she laughed.
That really was what it felt like to me though. At every turned we were presented with something awesome that was difficult to comprehend. The whole weekend was almost too much to take in. There were moments where I had to stop and compose myself for fear of the top of my head exploding and covering fans with brain matter. It was like a three day long high five from Kidrobot to the fans. And I can't wait to do it all over again next year.