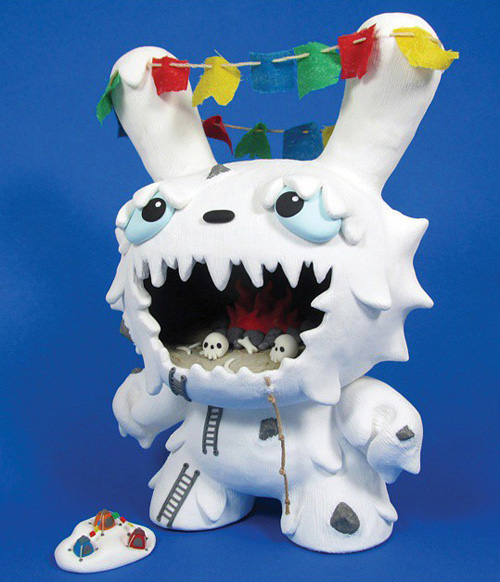 Are you ready for more custom eye candy in preparation for the DTA DUNNY SHOW 2? We got cute, colorful, and amazing designs by Jenn and Tony Bot aka The Bots!!!
Over the years, Jen and Tony Bot have been working hard designing/customizing and have a garnered a much deserved loyal fan base. Their contribution to last year's DTA Dunny show was a huge hit (Dunny above) and one of the most sought after pieces of the show. You might have also noticed them on social media with their recent work for Designer Con with Broke Piggy and the LTC chat group that is being extensively covered by Spanky Stokes.
You never would have guessed this brilliant duo graduating from NKU (Northern Kentucky University) have no formal art training,but more of a focus in Media Informatics, Popular Culture, and Cinema Studies. Luckily for all of us, Jenn has an affinity for polymer clay that has stuck with her over the years. With Jenn creating and Tony the idea and graphics man, the Bots are taking over. What started out as a gift of a Happy Labbit years ago has now snowballed into an artistic creating machine in the our little vinyl world
The pride and joy of many collections, this amazing duo is a strong force in the creative game. If you don't know The Bots, you are about to get a quick lesson since we asked them a few simple questions in prep for the show this January.
Given Name: Jenn and Tony Bot
Artist Name: The Bots
Location:
City: Fort Thomas
State: Kentucky
Country: USA
Who are you?
We are Jenn and Tony Bot, full time artists who specialize in art toy customization and polymer clay miniatures. The two of us have been customizing toys since 2010, but have worked together on art related projects for the past 14 years. We are completely self taught artists who have turned our hobby into our job.
What attracts you to using designer toys as the canvas for your art?
We love working on designer toys because of the unique challenges each toy presents. Being that we typically work with clay we have to perfectly plan each design before we begin. Once we start the custom there is no turning back and any misstep results in us totally stripping the clay and starting over again. With the clay, there is always a learning curve to every new platform we work on and it forces us to keep our art and style fresh. Plus, who doesn't want a job where you get to play with toys all day!
What was the inspiration for your piece in the exhibition?
When we received the invite we knew we wanted to create something fresh and totally different from anything we have done before. Whenever we approach a new piece we heavily draw on things that are going on in our lives and our newest muse is our newborn daughter. As anyone with children can attest, sleepless nights come often and are typically very long. During one such night a nocturnal based character jumped from our minds and into the sketchbook. He is still as grumpy as ever, but there is something a bit whimsical to this guy.
Where can someone find out more about you and your art?
We post the majority of our work to instagram (instagram.com/thejennbot), Facebook (facebook.com/jennandtonybot), and Flickr (flickr.com/ittybittiesforyou). We also recently had the opportunity to do an interview in Clutter Magazine where we cover everything from how we work together down to the process that goes into our pieces. You can read the magazine and our interview here: http://www.cluttermagazine.com/news/2015/05/issue-26-may-2015-rampage-available-read-online-now
Anything else you want to say?
It was a huge honor to be invited back to the 2nd Annual DTA Show. Kidrobot and Clutter have been huge supporters of our art and anytime we get to work with either company we are thrilled. As always, a huge thank you to our friends and fans. We are making toys, not making millions, and we continue to do it because of your backing.
Now peep some of their amazing work below: