Doll-maker and illustrator Nightly Made Megan O'Brien introduces her first ever vinyl art figure with a beautiful transformation from plush to vinyl.
Kidrobot and Martian Toys are excited to introduce you to artist Nightly Made aka Megan O'Brien's first vinyl art toy, the Midnight Moon Bat. The Midnight Moon Bat will be dropping in two limited edition versions on Friday, May 3rd 2019 at 10am MST including a Kidrobot.com Exclusive Sweet Fang edition, limited to 100 pieces worldwide. Kidrobot wanted to get fans acquainted with Nightly Made before her vinyl art toy debut! Read through Kidrobot's Q & A with Megan to get the DL on this artist and her new vinyl art toy before the release!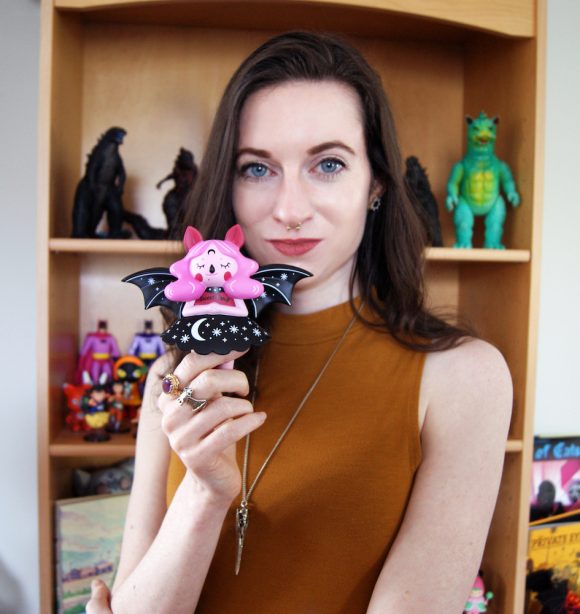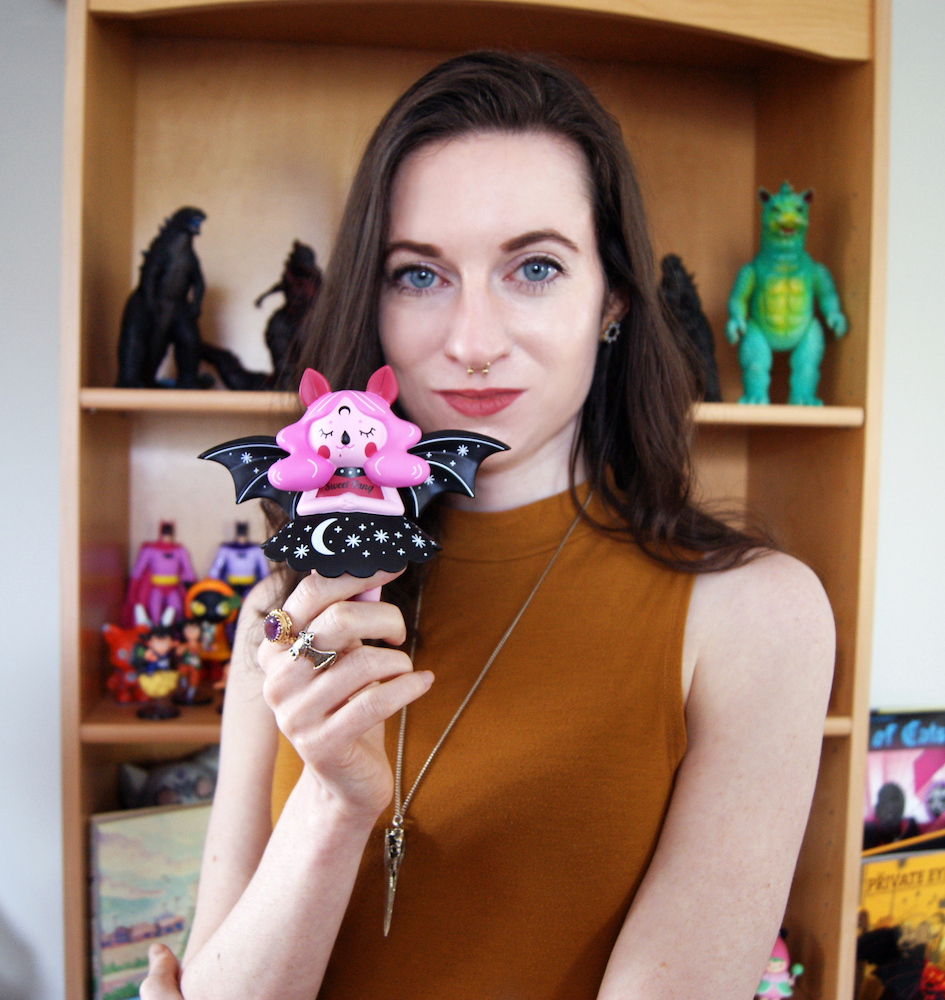 How long have you been creating art?
I've been drawing for as long as I can remember, but I taught myself to sew ten years ago. It wasn't until I started Nightly Made that sewing became a part of my regular routine.
How do you describe your artistic style?
A mash up of all my favorite cartoons over the years: 30's cartoons, Sailor Moon, Invader Zim, etc.
Who/what has influenced you and your art?
My grandfather was my biggest influence as a kid and still is today. We would watch old school cartoons and doodle all day. In the evening he would put on nature documentaries and I would play with action figures. If that wasn't the start of my career, then I'm not sure what else would be! And that's why I keep a photo of him on my work desk as a reminder of why I do what I do.
Can you share any drawings or concepts that led to the Moon Bat?
The concept first came to life as a handmade doll from my sketches. I even designed her dress pattern and printed it using Spoonflower. After that I created a pin based off the doll. It was a chain reaction that resulted in the incredible vinyl toy you see today.
Original Midnight Moon Bat Concept

Midnight Moon Bat Plush by Nightly Made

Midnight Moon Bat Pins

Original Concept for Sweet Fang

Nightly Made Megans Design Space
How do you approach designing each plush toy?
I like to put all my energy into one plush at a time. If it's a design I've created before I start by placing together a mood board of color-coordinating fabrics. If it's a brand new idea I start with a pencil and paper. When it comes time to design and cut out the new templates, you hope for the best. Sometimes I get lucky and the first run is perfect but other times.. Well, it's a trial and error!
How do you feel about your plush character being created in vinyl?
For someone that spends a good portion of every day looking at toys, it's a dream come true!
Whats your inspiration behind the Midnight Moon Bat character?
Bats have a long history of being associated to fictional horror as being terrors of the night, but there's a lack of awareness of just how important they are to our ecosystem. In fact, today there are a number of bat species that are critically endangered.
Changing the "eerie" perception of bats was one of my first projects for Nightly Made. After numerous followers have told me their perceptions of bats changed because of the Midnight Moon Bat, I considered the project a success!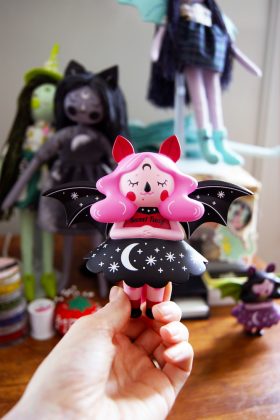 Whats the story behind the Kidrobot exclusive Sweet Fang edition?
Sweet Fang started as a bat pin design for Valentine's Day. She had a whole different look with white, pink, and gold trim. While working on the mockups for the Midnight Moon Bat vinyls I thought this would be a perfect opportunity to re-brand Sweet Fang with a little more edge as a full-fledged toy.
We saw her sweet side as a pin but the toy really brings out her fangs! VV
Do you collect art toys?
My shop is smack in the middle of two communities: the Designer Toy community and the Handmade Doll/Plush community. I have MANY beautiful pieces from both worlds and love them dearly.
What was your first experience with Kidrobot?
12 years ago I stumbled upon a Munny and I immediately bought two. I'm a huge Daft Punk fan and after seeing them live in 2007 I ended up painting them as Daft Punk. I still have them today. They're in rough shape after all these years but I refuse to paint over them.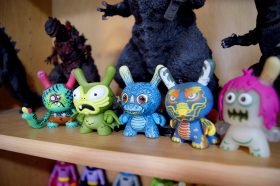 What are your favorite Kidrobot pieces in your collection?
I'm obsessed with Godzilla so of course I had to buy multiple boxes of the Kaiju Dunny release.
What inspires you as an artist and creator?
My answer might seem simple but social media has had a major influence on my work. We're lucky to have such community-based platforms today that allow us to appreciate the amazing artwork of others and share our own with the world. My followers motivate me and the artists I follow inspire me.
What has been the defining moment in your career so far?
For any artist, I think a defining moment is when you finally realize what your niche is. It didn't happen right away for me, and it wasn't until I created Nightly Made that I thought "Ah, this is it!" Another recent defining moment was meeting Aaron Hulsizer of Martian Toys.
Will you be at any upcoming shows?
You can find me at Five Points Festival this year. I will also be co-curating the Plush the Limits show at Mothership Toy Gallery in November that will feature many artists from the textile toy community.
Want to see more by Nightly Made? Follow her & check out her etsy shop.
Get the Sweet Fang Edition of the Midnight Moon Bat Art Figure by Nightly Made only at Kidrobot.com on Friday, May 3rd, 2019 at 10am MST