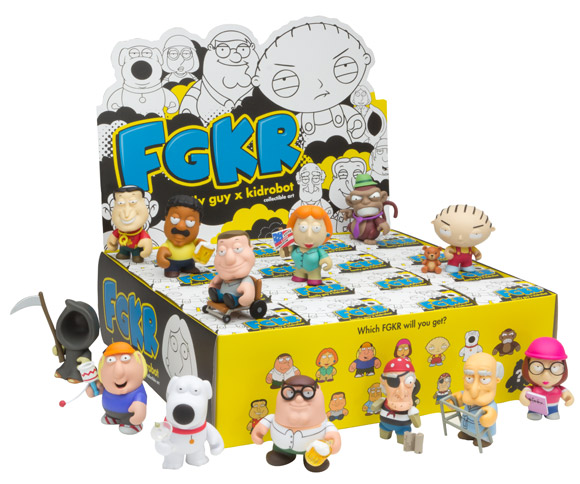 Kidrobot teams up with prolific animator Seth MacFarlane to bring you TV's all-American but totally twisted and dysfunctional family known as the Griffins and their favorite New England neighbors. Here to make us laugh and cry, each of the 15 blind-boxed Family Guy mini figures comes with an insert card and accessory – and raises the question, "Which FGKR will you get?" Now available at Kidrobot stores, Kidrobot.com and select retailers, these 3-inch FGKRs retail for $9.95 (£9.00 UK; 10€ Europe). Giggity!
Get while the gettin' is good!
Celebrate this guy-normous release now through Monday, February 21 and feel a little extra love in your wallets. Use the special promo code FGKR25 to save 25% on all single blind boxes and use FGKR30 to save 30% on case purchases of 16 and more. This freakin' sweet offer is valid on Kidrobot.com and Kidrobot.eu. Act fast offer ends Monday night.
Due to licensing restrictions, these figures are limited to customers in: USA, Puerto Rico, Canada, UK, Ireland, Sweden, Norway, Denmark, The Netherlands, Switzerland, Germany, France, Italy, Spain, Greece and Russia.