Here is another Kidrobot Throwback Thursday with our good friend Chris Holt aka The Toy Viiking.
How come tacos in real life are not nearly as big as Yummy World's Flaco Taco plush?  This dude is ten inches long, making the need for multiples a thing of the past.  You would just need one of these, a big plate to put it on, and a long nap afterwards to let your body rest after such a meal.  That's a day well spent.
 No matter their size, the taco was obviously invented by someone who loved us all and should be considered for sainthood.  It is one of the most thoughtful gifts ever bestowed upon mankind and I've been trying to imagine how someone came up with it.  This is in no way factual, but I can just see someone trying to make the hamburger even better than it already is, and deciding that the first move was to make all of the ingredients tiny yet plentiful.  Chop up the meat and all the fixins into really adorable little bits, then pile em high.  Realizing that bread was in no way capable of holding this new pile of goodness, they decided that a giant tortilla chip in the shape of a U would be the perfect vehicle to deliver this amalgam of flavor.  You don't even need a side because the side dish is holding the whole thing together!  It's a complete meal!  They also had to have a sense of humor as they neglected to seal off the back so enjoying one is a messy proposition as gravity tries to steal your deliciousness.  This is the part of the taco experience that my cats find the most enjoyable, as they try to snatch any escapees that get past me.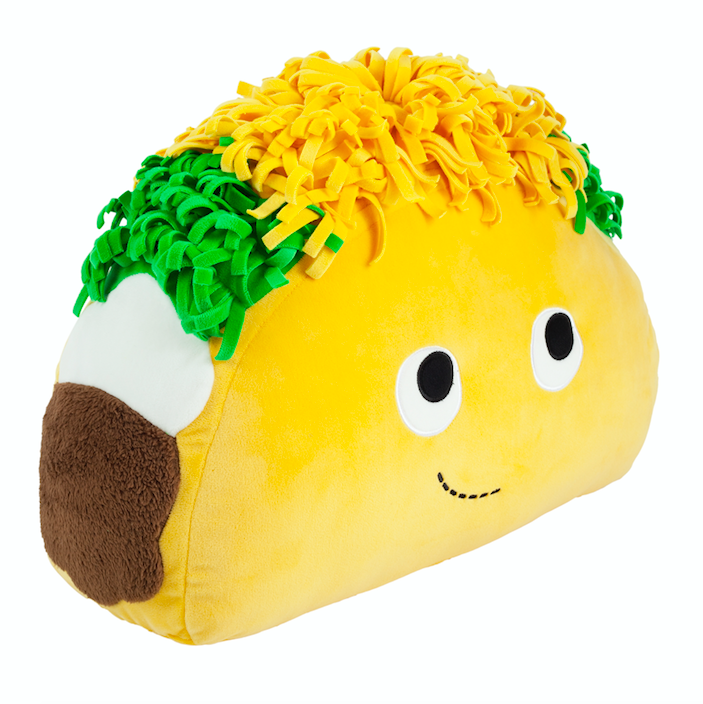 This plush will make you wish everyday was Taco Tuesday.  Pick up one now at www.kidrobot.com to inspire your next trip to the grocery store.