Tomorrow is the release of the Kidrobot x City Cryptid Dunny Art Mini Series. The series features10 fabulous artist both who have and have not worked with Kidrobot before including Greg "Craola" Simkins. Greg "Craola" Simkins is an artist we've kept an eye on for quite some time since the Kidrobot Dunny Series 3 with his "Ima Monster" and are thrilled he is now a part of such an imaginative series. Getting his start in the late 90's Pop Surrealism and graffiti, we are amazed by all his pieces that manage to perfectly capture some of our wildest dreamscapes and apply them to today. Getting to know Greg a little better, we decided to ask him a few questions about himself and his pieces in the series..check out what he had to say!
What's your background? Have you always wanted to be an artist? I am a Pop Surrealist painter and got my start painting graffiti in and around Los Angeles since the early 90's. I have always wanted to be an artist….. and a Winged Rabbit, I've also wanted to be that …. How cool would it be to be a Flying Bunny!
What does your work aim to say? Indulge and explore the depths of your imagination. The more obscure and the weirder, the better.
What's a personal goal of yours? I tend to set new goals with each body of work. It usually involves an aspect of my technical toolbox that needs to be sharpened up, be it drawing people, painting landscapes, color theory etc.. I'm interested in the long term journey of making paintings and have set a high bar for where I want my work to be 10 years down the line.
Which current art world trends are you following? I'm interested in installations and how to men my work more Immersive. I love the idea of mixing 3D with my Paintings and have always loved dioramas such as you would see at the Natural History Museum.
Is there a piece you are most proud of? Why? "Good Knight" is my favorite piece because It was one that was kicking around in my head for a long time and I was able to attempt and achieve some new techniques during it. It is also the cover of my newest book and I love the story built into the piece.
Is your father your biggest fan? Right up there next to my Mom who is my number one street team member making sure all the baristas and waitresses everywhere she goes knows her son is an artist:)
What are three of the most important things in life? Faith, Family, Drive
Some of your Art has a depth that almost seems historic? What kind of movies, books, artists influenced you growing up? The Chronicles of Narnia, The Three Muskateers, Watership Down, Hieronymous Bosch, Norman Rockwell, Maxfield Parrish, Dr. Seuss, Salvador Dali, Caravaggio, Old Disney films, Miyazaki, classic black and white cartoons….
What did Scott Tolleson say that convinced you to be a part of the City Cryptid Mini Series? When he said we could add alterations to the sculpts, I was in. It was the first time that It wasn't just the altered color way presented, but a whole different version of the bunny that interested me.
Is this your first piece with Kidrobot? Nope.
Do you have a favorite monster or fictional character? Too many to chose from to have a favorite. I like the idea of Centaurs and Mermaids and all the different animal mashups that could become them.
Can you tell us a little bit more about Bunyip? Where does this character come from? What is his personality like? Was he born with this tooth like that? Where was he hiding before and where would he live if he was accepted into human society? The Bunyip is a hauntingly shy character. He hangs out in swamps, or as he calls them in the outback, billabongs waiting for unsuspecting metal heads to wander by. Once in striking distance, he immediately leaps out and asks them if they want to join his band. At times it has become a rather awkward interaction mainly because, well you know, they just met. So far his band consists of two members. Him, and a frog he met that rips on the bass.
Tell us more about J'Ba Fofi. How did he get his name? Was he inspired by something you've seen in a dream? Your perhaps fear of spiders? Etc. Does the hat on his head has its own personality? Where did this character come from? Is he the only one of his kind? J'ba FoFi is a gallant, mind eating friend to all hidden creatures that go bump in the night. He doesn't think much of the two legged things that walk this planet, but looks at them as delicious snacks. He throws outrageous festive black tie events where you might bump into the likes of his good friends the Dunyip and the Chupacabras. His parties are fun but don't forget to always keep one eye on the host as you might get tangled up in his web and  become his next treat. He is also a terrible gossip. No I'm not scared of spiders…well not really… maybe a little.
What's an important life lesson you think other people should know? Watch the Donut not the hole.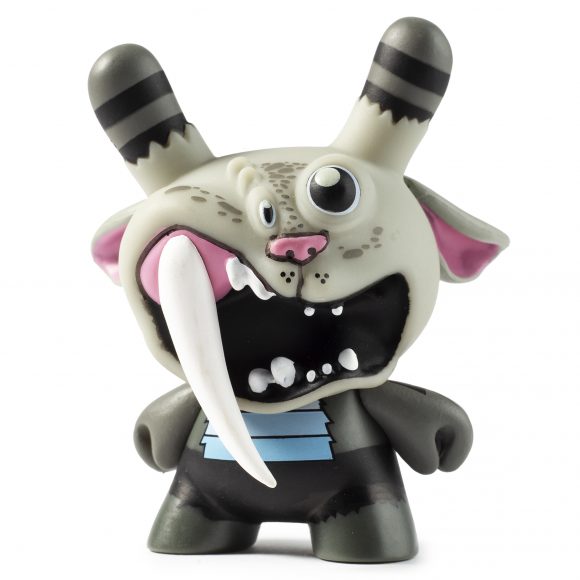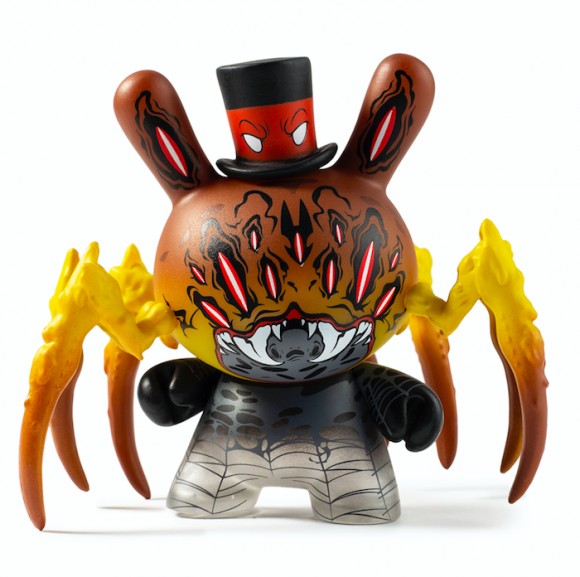 Celebrating this series and these artists, we are having the Kidrobot x 3D Retro City Cryptid Dunny Mini Series release party at 3D Retro where you will be able to chat up the artists and get some cool stuff.