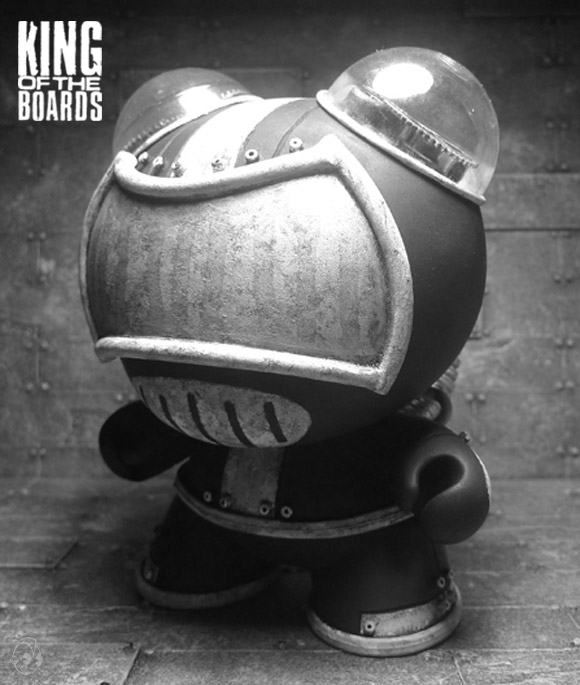 UPDATED: 5/13/11
Welcome to Kidrobot's amazing custom giveaway, KING OF THE BOARDS. This featured contest pays mad respect to one of the many insanely talented artists in the awesome vinyl community known as the Kidrobot Forums and gives you a shot to win an original art toy. Now is your chance to score this exclusive custom 8-inch Dunny, GEARHEAD by Phu. To enter, email wheelbarrow@kidrobot.com with an image of your favorite custom Dunny of all time (it's ok if you have more than one) by 2pm EST next Thursday, May 12 to enter in the random drawing. Please title your entry email All Hail Phu!
Hailing from Singapore is the internationally renowned artist, Phu! This custom creator of phuturistic art utilizes recycled parts for his robotic ways. This featured exclusive is appropriately titled GEARHEAD and is re-constructed using brass rivets, found objects, gashapon acrylic spheres, plastic pellets and wire. Phu has exhibited his work in exhibitions and galleries around the world (recently at myplasticheart with Rhoby) and inspired many of his peers over the years in the worldwide custom scene. We recently caught up with Phu to get the nuts and bolts to what makes him tick.
wb: How long have you been a board member and why did you join?
P: I joined KR forum on the 23th Sept 2005. That's 6 damn years. To showcase my custom works to the masses.
wb: What inspired you to start customizing toys?
P: I'm always into 3-D stuff for its sense of visual and tangibility. Toy-custom is one of such. I personally see toy-custom as a form of sculpture. Though some people may detest this, I feel that we the customisers also do adhere to basic elements of art or design when embarking on our work; just like the sculptors. Basically I enjoy putting things of different elements together to form a composition. These elements may contradict each other thus challenge my creativity.
"Deconstruct / Recreate"
wb: Who are you favorite artists and/or biggest influences?
P: Marcel Duchamp, the originator of Found Art/Readymade Art. He basically chose selected found objects, sometimes modified them and then presented them as art.
wb: What was you first toy?
P: I started about five years ago and my first toy was a three-inch tall blank Trexi. It was my very first attempt. Fortunately, it turned out pretty decent and I received very encouraging feedback for it. Now that steered my interest towards toy customizing. Kind of especially in Singapore, where the market for customized toys is very small.
wb: What are your plans for the future?
P: Looking forward to the release of my 5-inch Rebel Pilots v2.0 produce by My Tummy Toys.
[nggallery id=256]
Stay up to date with Phu and all his phuturistic creations on his website or follow this customizing machine on Twitter @phu77 . You can also find more available works in his webstore.
____________________________________________________________________________________________
Congratulations to Brian K. of Texas. You are the winner of this exclusive one of a kind Dunny by Phu!