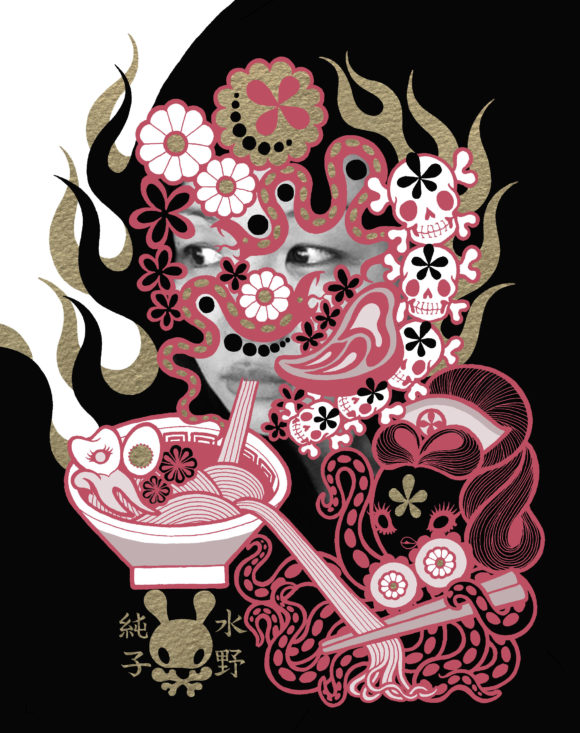 Ever seen a one-armed Dunny that's on fire? Well now you have.
For years, Junko Mizuno has been establishing herself as a force to be reckoned with in the art world.
Her work has taken numerous forms – paintings, comics, drawings, magazines, books, toys, and even apparel such as watches! And she has been featured in countless magazines, art shows, and conferences, travelling around the world doing signings and being her bad ass artist self.
Kidrobot has had the pleasure of collaborating with Junko on many occasions and we're thrilled to be a part of the creation of her latest 8" Dunny design – "La Flamme." It's a piece to be held up and examined, turned over and over in your hands so that you may absorb every line that makes up every shape of every creature that adorns this beautiful piece of vinyl art.
On designing the figure, Junko says "This is the 4th or 5th Dunny I designed and wanted to try something different this time. The previous designs were basically bunny characters with two large eyes but for this one, I used the figure as a canvas and put a lot of graphics so the Dunny looks like it's been tattooed. The whole design is like a fun party/ritual scene. The main character in the middle is my favorite witch with her sculpted disciple on the head. And I surrounded them with her friends: tooth guy, one-eyed cat, rats, egg lady etc. They are the characters and items that often appear in my artwork.
And then framed it with sculpted flames and the wand symbolizing the power and energy of the witch."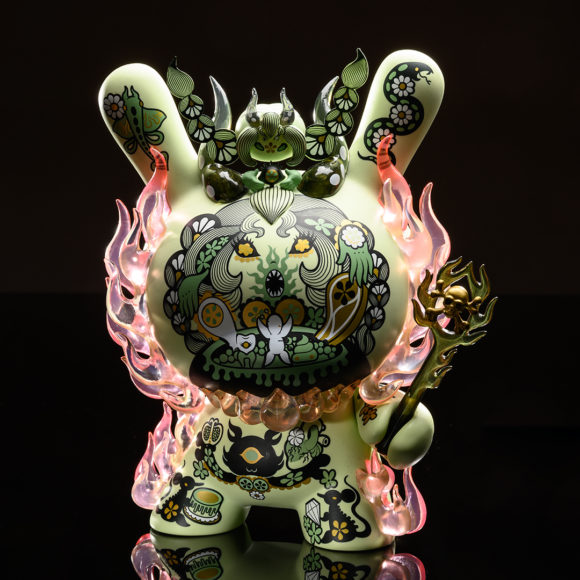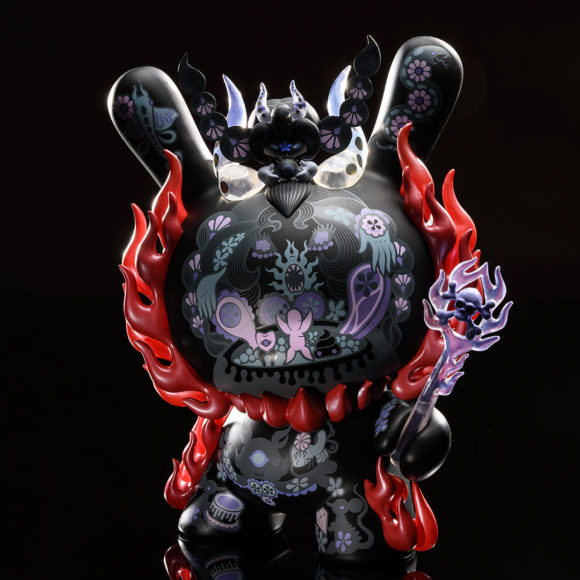 ABOUT JUNKO MIZUNO:
Having grown up in Tokyo, Junko Mizuno is a self-taught artist recognized for her unique visual iconography of powerful and often sexy women. Although her art refuses to be categorized, much of it is based on Japanese pop culture from '70s and '80s with the sources of her inspiration stemming from fetish art, folk art, religious art, psychedelic art, pin-up art, advertising art, vintage toys, fashion, comic, food, nature, movies, TV shows, video games… almost everything that surrounds her. Currently residing in San Francisco, she is constantly working on new comics, paintings, illustrations, and product designs ranging from toy figures to T-shirts. Her work has been featured in stores, museums, and fine art galleries around the world. Motivated by the pure pleasure of creating art, she celebrates the power of women and creates a universe of them, full of energy, both positive and negative.