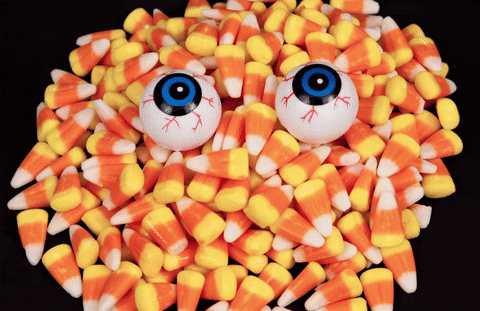 Probably the most debated-over Halloween treat – candy corn is one of America's oldest candies that is still being produced, having been invented by George Renninger of the Wunderland Candy Company in 1880's Philadelphia. Yes. In the same decade that electricity began lighting up homes and the first automobile was unveiled, ol' George figured he'd invent a candy that people would argue over and mock for more than a century. This classic Lewis Black candy corn rant, for instance, is a hilarious example. And let's not forget the time Jay Leno said "My favorite Halloween candy is the candy corn. It comes in four colors: white, yellow, orange, brown. Those are also the stages of your teeth rotting after eating it."
A notoriously uber-sweet and enduring candy, it's also a money-maker, despite people's apparent derision. Each year more than 9 billion pieces of it are produced and it generates an estimated $36 million in revenue for its crafty confectioners. So who cares about a joke or two?
BUT what if candy corn has feelings? And what if its feelings are hurt? And what if it's angry? And what if it were to sprout sharp teeth and come to life and stalk you around your living room, praying for you to trip and fall so that it could eat you alive as payback for your awful jokes at its expense?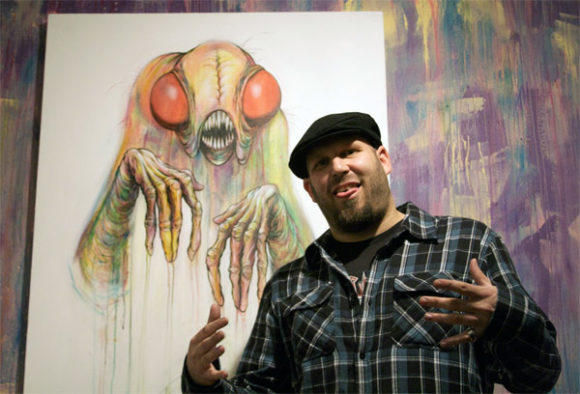 Maybe these are the sort of thoughts that artist Alex Pardee entertained when he created his Candemon enamel pins – a series that imagines candies as ravenous, murderous creatures hell-bent on destroying you. Among these characters, one stood out above the rest – Candemon Cornelius – the manifestation of every candy corn joke, soured and twisted inward and evolved into a grotesque, fanged and bloodthirsty beast! If you're familiar with Pardee's work, you won't be surprised at the humor infused in this piece. Nor will it shock you to discover that Candemon Cornelius is now a brand-new vinyl art toy, being released by Kidrobot tomorrow. Frankly, it's overdue! And just in time for the creature's favorite time of year.
If you ask Alex what inspired this piece, don't expect a straight answer. There are no singular inspirations. But you can check out his riveting "what inspires you?" page on his website, to get a taste.
***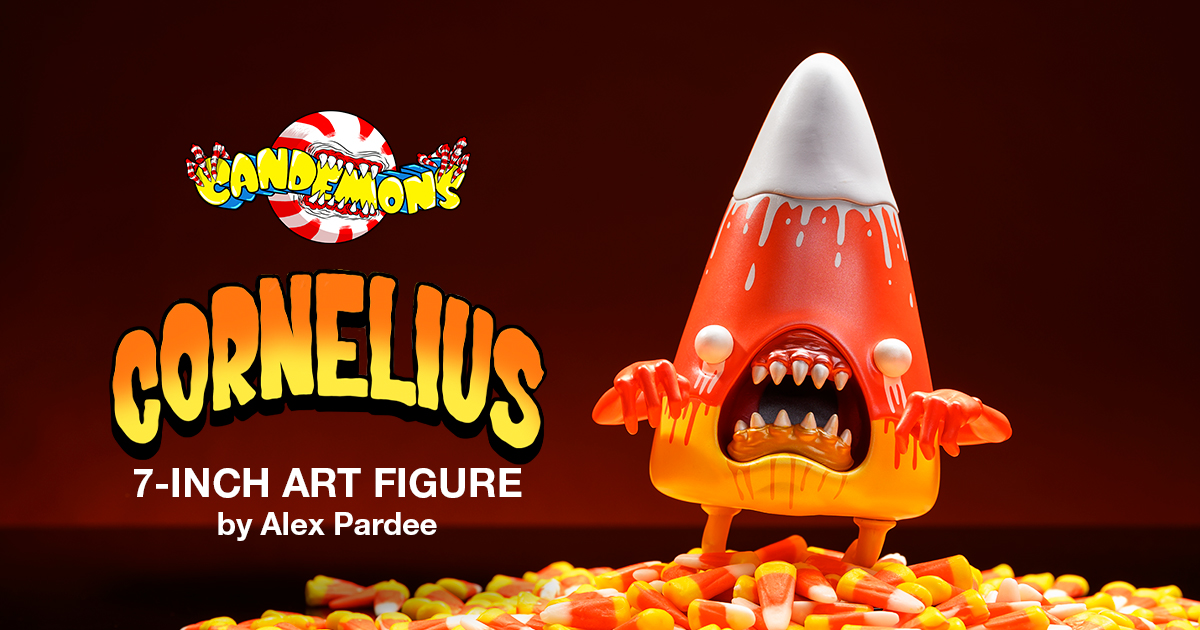 Candy Corn doesn't just haunt Halloween anymore. Based off of Alex Pardee's evil-candy characters and accompanying enamel pin set, "The Candemons", comes the first of 6 classic candy-coated vinyl-collectible demons to crawl from your candy bowl: Candy Cornelius. This fall favorite stands approximately 7.5″ tall and sports that trademark Brightmares grin. Have one haunt your collection today! The Melty Metallic Kidrobot.com Exclusive is limited to 250 pieces worldwide. Available October 8, 2019 at 10am MT, only at Kidrobot.com.