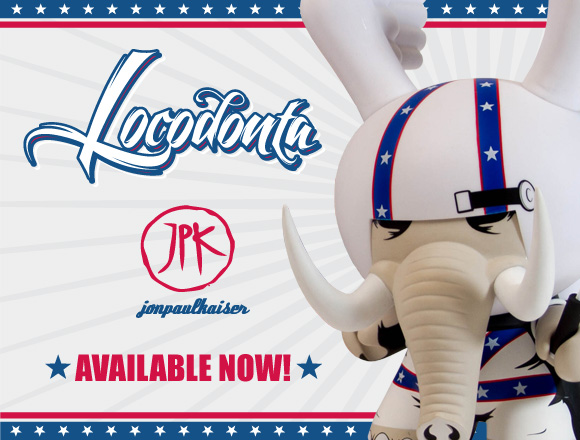 "The Locodonta represents the daredevil in all of us; that sense of invulnerability and disregard for consequences which give us such thrills at the time, even if the memories haunt us long afterwards.
I was inspired by the adolescent feeling that nothing can harm you; the adrenaline rush from crippling bike stunts and jumping off cliffs into the sea, not realising the danger until years later.
Without wanting to indulge in nostalgia, but acknowledging the designs and characters that surrounded me as a kid – using the visual shorthand from the icons and costumes of stunt performers, circus acrobats and obscure aliens from sci-fi serials to show these guys as incarnations of fearlessness." – JPK
Never run out of nerve.
This 8-inch vinyl tusker is ready to fly. Stunt suit design is topped off with a newly sculpted head – including jet streaming ears – and a single engine jetpack accessory. Limited edition of 1400.
Locodonta Dunny SDCC Edition is available NOW at Kidrobot stores, kidrobot.com, and select retailers. Locodonta Dunny retails for $99.99 US
AND for you Kidrobot San Fran Fans!
We have an exclusive artist signing event just for you! From 6-8 on Wednesday, July 24th, JonPaul Kaiser will be in house to sign your Locodontas! Stop by, hang out and show him some love!!!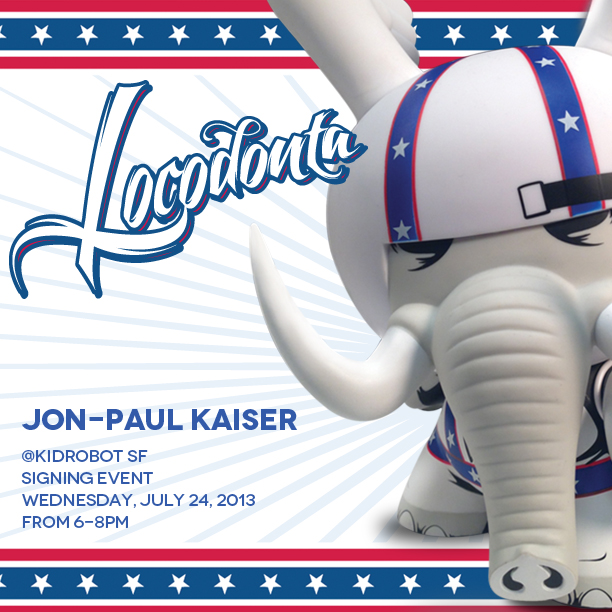 Since it is JPK Day, we also are revealing our  FIVE winners of the San Diego Comic Con exclusive from the Dunny2013 Scavenger Hunt!
Stand by for those in the next post!